So you've planned a trip to Krabi, Thailand… or are at least dreaming about it because you ended up here. The destination pick was the easy part – somewhere with picture perfect views, plenty of adventures, reasonable prices and good vibes – Krabi has everything you're looking for. But now you have to figure out what you want to do while you're there. Island hopping in Krabi should be at the top of your trip to-do list.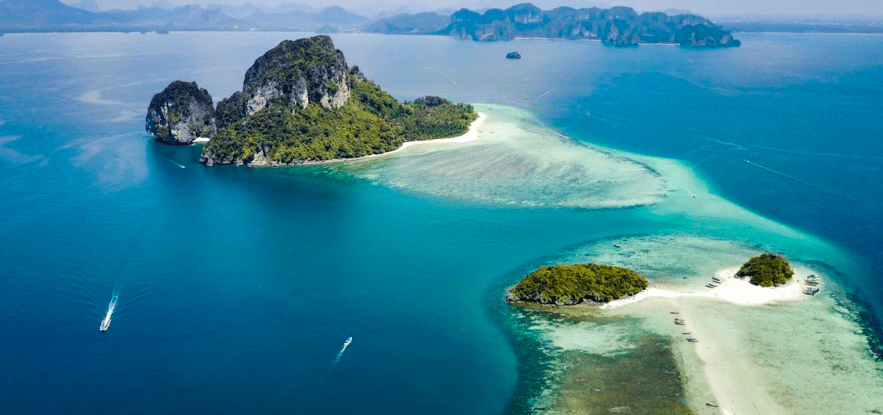 This might be one of the only times you have the chance to check out this paradise, so you want to make every day count! No basic, stay-in-one-spot trips… this is a seeking-every-adventure-possible kind of trip. And luckily for you, there's Krabi Sunset Cruises.
All you have to do is pick a day to spend on the water and leave the rest of it to the crew! No extra planning or worrying about missing out on hidden gems. The Krabi Sunset Cruise crew will take you island hopping to the best islands near Krabi for a day of non-stop, jaw-dropping views and adventures.
Where will you go?
A Siamese junk boat will cruise through the gorgeous Andaman waters to take you to five different islands: Poda, Tup, Si, Ta Ming, Wasam and Gai. Each island has a spectacular view that is so insta-worthy you almost won't believe it's a real place. This tour will give you the unique chance to not only see all of these different islands, but spend time enjoying each and every one of them. Because the last thing you want on a chill Thailand vacay is to be rushed.
Krabi Island Hopping: Adventure Options
When you arrive at each island you'll have the chance to jump ship and it's totally recommended! You can go swimming and float around on inner tubes, paddle boards, or tandem kayaks, in crystal clear waters. However, if you want to dive a little deeper for a closer look at the underwater life, go snorkelling!
If you feel like keeping your feet on solid ground you can lounge on the junk boat and soak up the rays. The teak deck is a perfect place to relax while taking in the views.
Now there's a part of the tour that is a will seem completely magical… (as if the rest of the day hasn't been awesome enough) swimming at night! Okay, this might sound completely terrifying… but the water has a giant night light for you! This illuminating experience will happen when you reach Prah Nang Beach, where you'll be surrounded by millions of bioluminescent plankton. If you think that swimming around with little sea critters sounds creepy, then you need to read up on them a little more! They're pretty cool. Even if you don't want to swim with them you'll still get to see their glow from the boat. By now you're likely trying to make a trip to Krabi, Thailand happen. This is one of the top destinations on bucket lists and it's easy to see why. If you're looking for a one of a kind experience when you're there then Krabi island hopping is for you. Book your tour now at Krabi Sunset Cruises.