A Tranquil And Extraordinary World
Pla Luang is moored off Railay and we call this special place home. Below is some information should you like to come to visit.
Railay Beach (also spelt Railei) is one of Thailand's most sought-after beach areas. Just south of Ao Nang Beach, around a rocky headland and accessible only by boat, Railay presents a tranquil and extraordinary world. In just one small peninsula you'll find gorgeous white sand beaches, soaring limestone cliffs, viewpoints, caves and a lagoon hidden inside the cliffs, shaped and fed by the changing tides. All within walking distance!
At Railay there are no roads
Only footpaths. No buses, no cars, just longtail boats. Although it's actually connected to the mainland, the spectacular Railay Peninsula is effectively cut off from the rest of Krabi by limestone headlands and steep jungle valleys; the only access is by sea. The very picture of tropical paradise, with no roads and no hassle, Railay offers lazy days, adventure forays and chilled-out evenings. Railay West offers perfectly soft sand, a wide beach, informal beach restaurants, friendly locals and a few travellers who just can't seem to leave.
At sunset the beach is a hive of activity
With boats arriving and departing, impromptu games of football, volleyball and takraw (a local game played with a woven ball). The beach faces west, so it's a great place to just sit and watch a stunning tropical sunset.
Various pathways straight across the peninsula link Railay West with Railay East.
You can also walk along the beach at Railay East and along the base of the cliffs to Phra Nang beach (About 20 minutes)
Both Railay West and Phra Nang beaches have surrounding cliffs that twist into fantastic shapes, weathered by the wind and rain over time. Trees and shrubs cling precariously to the rock face, as do rock climbers who come here for sun, sand and the challenge of an overhang or a vertical wall. Most people, however, just come to relax and enjoy.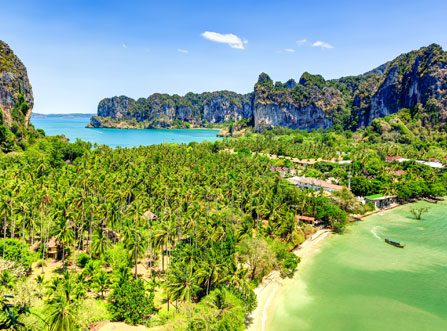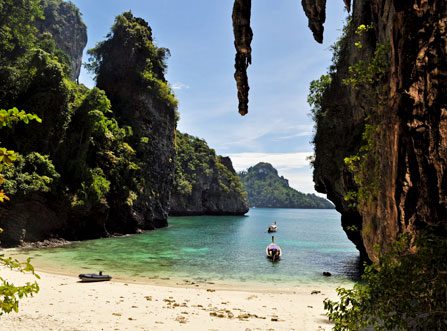 Weather patterns are becoming unpredictable and Railay is no exception.
In general, we follow a similar weather pattern to Phuket with average temperatures between 25 – 33 degrees year-round with high humidity.
We have two distinct seasons
Book Your Boat Trip from Railay Beach
Sunset Cruise Season is Now Open!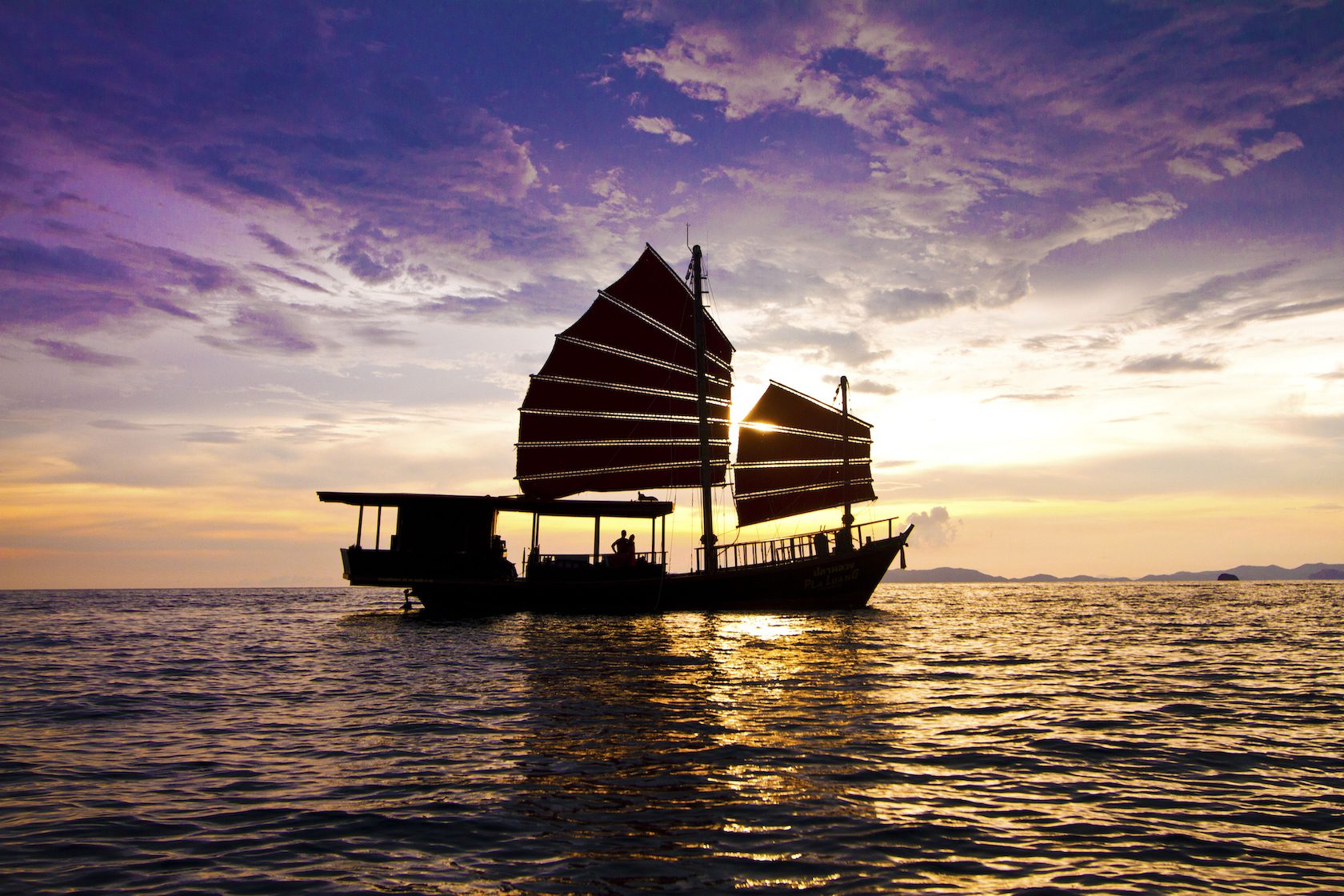 6-7 hours
Availability : 7 days a week
Our sunset trips run 7 days a week all year round and commence at approximately 2 pm with meeting points […]
Private Groups Only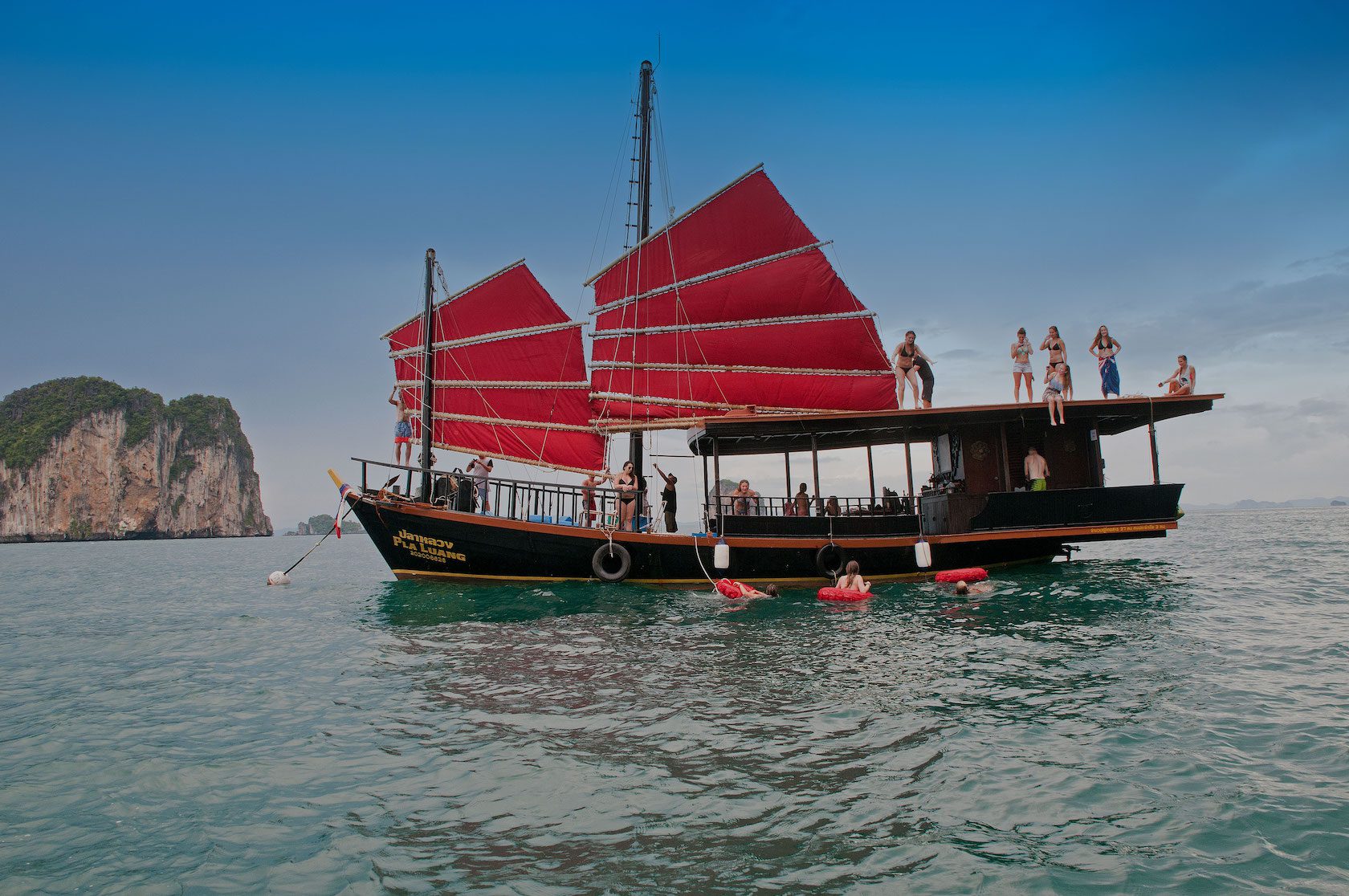 5-6 hours
Availability : 7 days a week
Embark on a morning adventure like no other with our Krabi Private Morning Breakfast Cruise. If you're the type who […]
Private Trip For Hire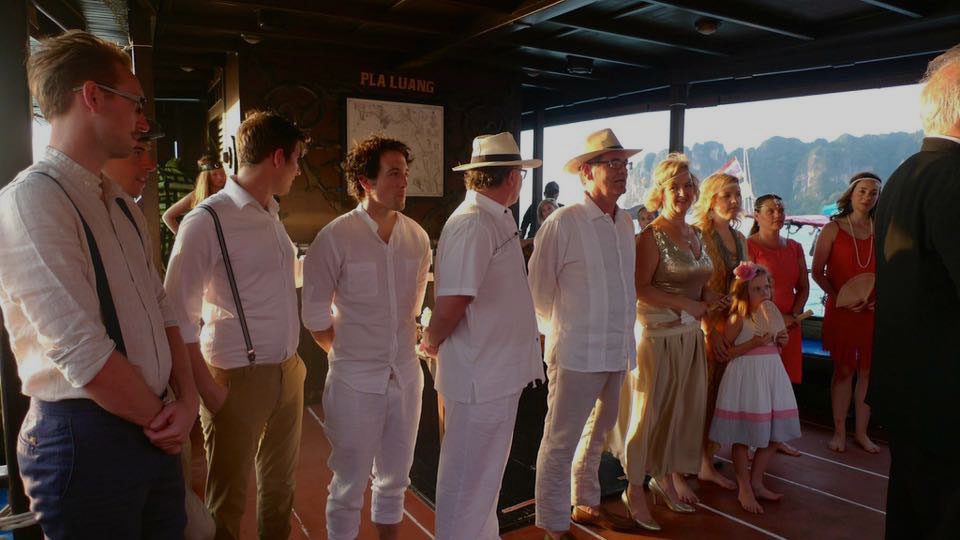 Tailored to your needs
Availability : 7 days a week
Experience the magic of Krabi and its 4 islands aboard your very own private Siamese junk boat. Embark on a […]