Picture this: Saying 'I do' with Krabi's famous orange sunset as your backdrop, surrounded by the gentle lapping of turquoise seas. Welcome to the world of destination weddings in Thailand, where romance meets paradise!
Whether you're looking to throw an engagement party or have a full-fledged wedding ceremony, Krabi Sunset Cruises makes it truly special. On our Siamese Junk Boat, we offer an experience that's not just unique but also full of warmth and personal touches.
In this blog, we'll share how you can craft unforgettable memories with a boat wedding in Thailand – including some top tips from our team that we've learned while helping our guests host their dream day: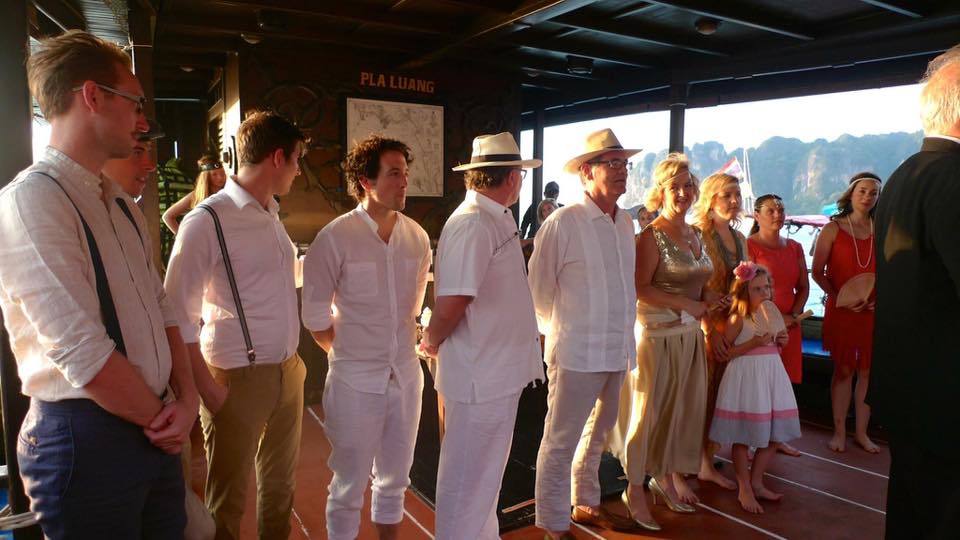 Why choose Thailand for your destination wedding?
For us, it's not just about the dreamy landscapes and pristine beaches, although we've got plenty of those! It's about the warm smiles of the local people, the welcoming culture, and the sense of adventure that permeates the air in Thailand.
People come to 'The Land of Smiles' because of its easy-to-navigate reputation, heavily reinforced by the hospitality that the Thais extend to visitors. Convenience is a real incentive, and there's always a wide range of accommodation and experience options available for every budget. And, getting around is easy! You can be in Bangkok for your bachelor party one day and hopping on one of their quick and inexpensive budget airlines to say your vows on a beach the next!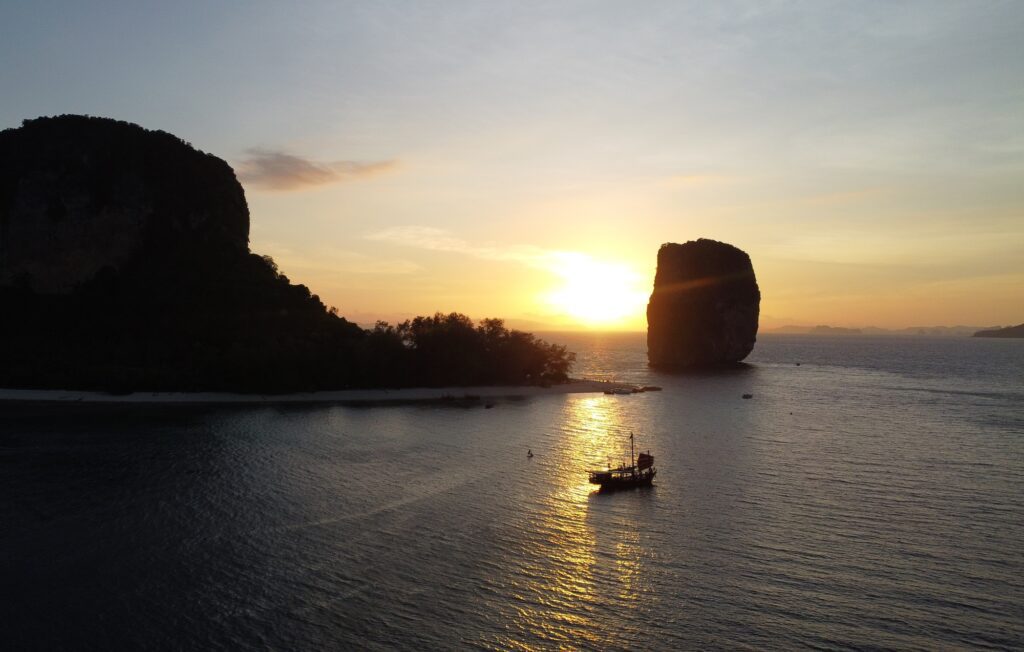 Planning your dream wedding on the water
We've had the privilege of hosting weddings on our Siamese Junk Boat for years, and each one has been as unique as the couples themselves. We understand that planning a destination wedding can seem like a daunting task, because we're here to make it seamless. Our experienced team has had the pleasure of working closely with wedding planners who come aboard to liaise with us, ensuring that every detail is perfect. We're happy to be introduced and work alongside your planner and can also recommend reliable local wedding planners who know the ins and outs of Krabi.
To add an extra layer of convenience, we can provide transportation services from your hotels to the piers. And here's a little tip – consider using the lesser-visited Ao Nam Mao pier for your grand entrance. After all, we understand that navigating the waters in your wedding attire might not be everyone's cup of tea! Ao Nam Mao has a pier for both low and high tides, meaning you can hop onto our transfer boats with ease.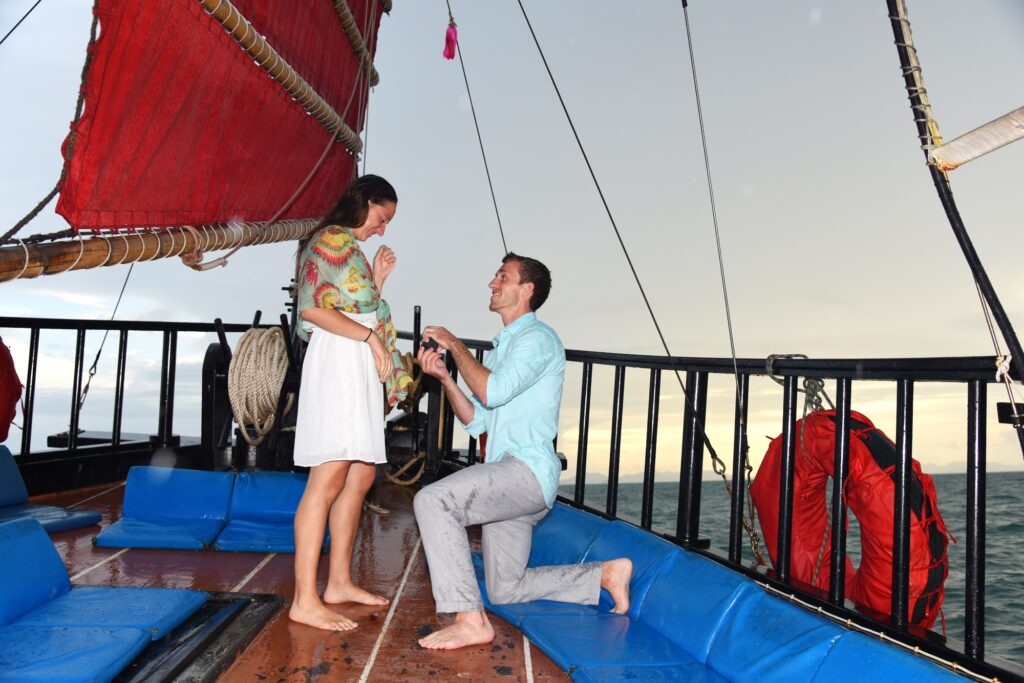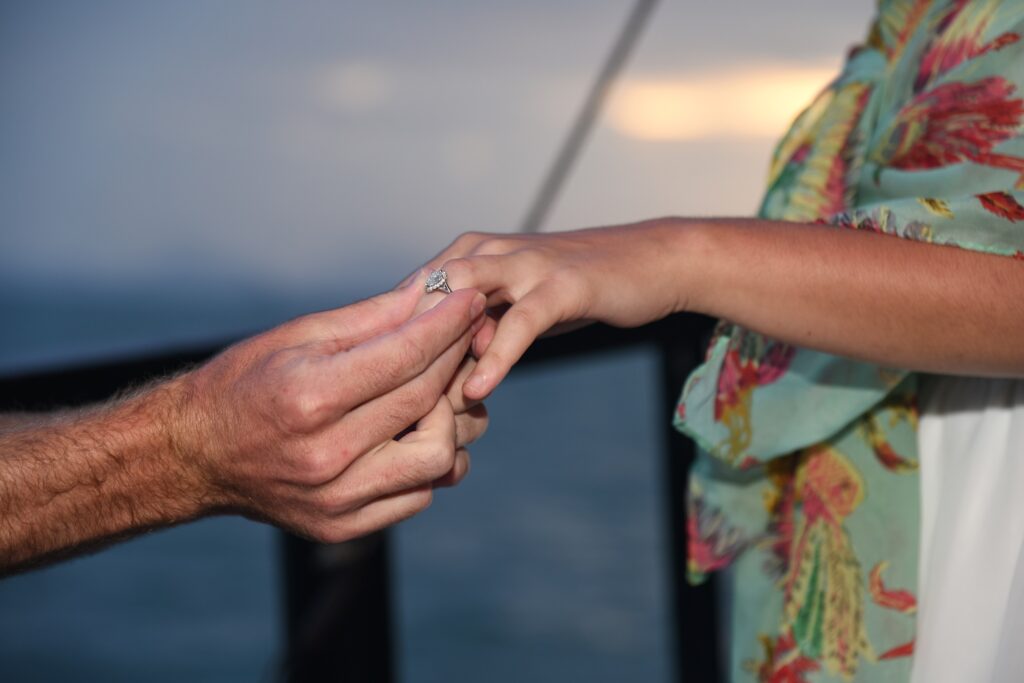 Customising your Krabi sunset cruise wedding
Your special day should be as unique as your love story and that's why we offer lots of personalised options to ensure your wedding day reflects your dreams.
With Krabi Sunset Cruises, your wedding itinerary is entirely customisable. You and your partner get to decide which stunning spots you'd like to explore, how much time you want to spend at each location, and, of course, where you'd like to exchange your vows. Our expert advisors are here to help you make those crucial decisions.
For example, while Railay's Pranang Beach may seem like the perfect spot to pause the boat (the dramatic cliffs make it an obvious first choice), we've learned from experience that it's not always serene as people would like, due to the noise of surrounding longtail boats.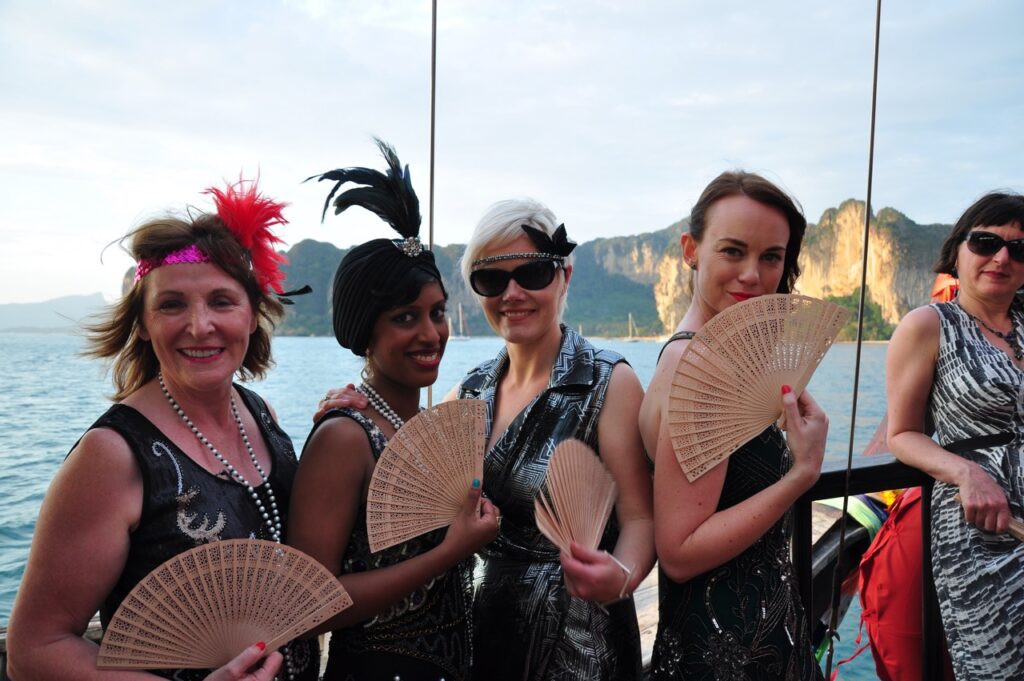 Catering, decor, and entertainment – Boat wedding essentials
It wouldn't be a Thailand destination wedding without local flavours! So, first and foremost, our traditional Thai buffet comes included in all of our wedding packages, ensuring convenience for you and your guests. Our menu is designed to cater to all dietary preferences, including vegan and vegetarian options as standard.
Your base package also includes soft drinks, fruits, and snacks, just like our 4-island Krabi sunset cruise. But here's the exciting part: we offer the flexibility to upgrade to a drinks package, which includes options like a champagne package, so you can toast to your love (or welcome your guests abroad) in style.
While many of our couples are content with snorkelling, island views, sunsets, and music from our on-board sound-system, you have the choice to bring your own performers aboard or let us help you connect with fantastic local talents. Whether it's musicians or any other entertainer you have in mind, we're here to make your boat wedding as lively and enjoyable as you desire.
Want to add an extra touch of additional colour to your celebration? We can arrange for balloons and other decorations to make your boat wedding even more special. Bring your own or speak to our team about adding this to your service package.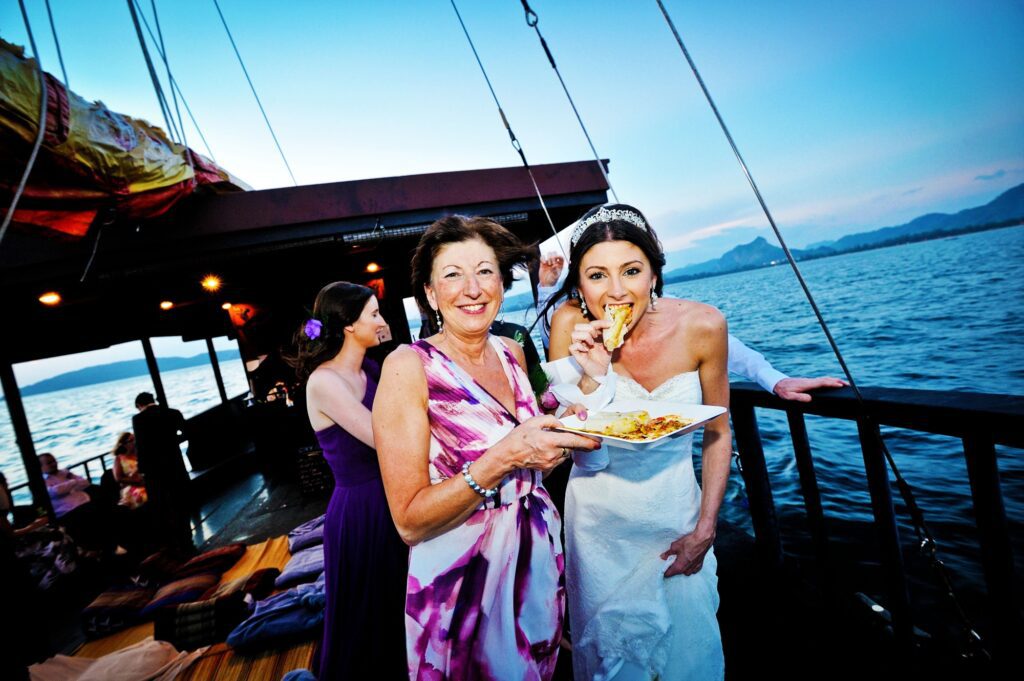 Thai wedding traditions – Adding local flavour to your special day
Embracing Thai wedding traditions can add a unique and beautiful touch to your special day in Thailand. The local culture is rich with customs that symbolise love, unity, and blessings for the couple. During past ceremonies, guests have incorporated elements like 'Rod Nam Sang'. During this tradition, a conch shell (known in Thai as 'sang') is filled with holy water and is used by each guest to gently pour over the hands of the newly-weds ('rod nam' means to soak with water). It's a touching gesture that signifies gratitude and seeking their blessings.
Looking for something a bit more light-hearted? Thai wedding dresses are often defined by their beautiful, bright colours and elaborate embroidery. These designs are a symbol of good luck, happiness, and prosperity in Thailand, so you could ask your guests to nod to these traditions by dressing in their most colourful attire.
Booking Krabi Sunset Cruises for a wedding
Booking Krabi Sunset Cruises for your wedding is as easy as falling in love with the Thai scenery.
Krabi Island Cruise Wedding Package: Our Krabi Island Cruise Wedding Package, priced at 80,000 baht, is designed to make your planning worry-free. It includes a traditional Thai buffet, soft drinks, snacks, and water, along with all the swim and activity equipment you'd find on one of our regular sunset cruise tours. This package is perfect for up to 33 people, ensuring an intimate and memorable celebration.
Morning Cruise Wedding Package: For those looking to make the most of their budget, we offer a morning wedding boat trip option. With no set departure time (but the requirement to return to the pier by 1 pm), this choice is more budget-friendly at just 60,000 baht for a full capacity of 33 people.
We understand that every couple is unique and may have their own vision for their big day. So, we've made our options fully customisable, as mentioned above. You don't have to decide on all the extras immediately. Feel free to reach out to us whenever you're ready to discuss additional elements. We just kindly request that the final deadline for customising your options is two weeks before your wedding trip and one week for engagement parties. We're here to accommodate your every wish and ensure your boat wedding is an unforgettable and hassle-free experience.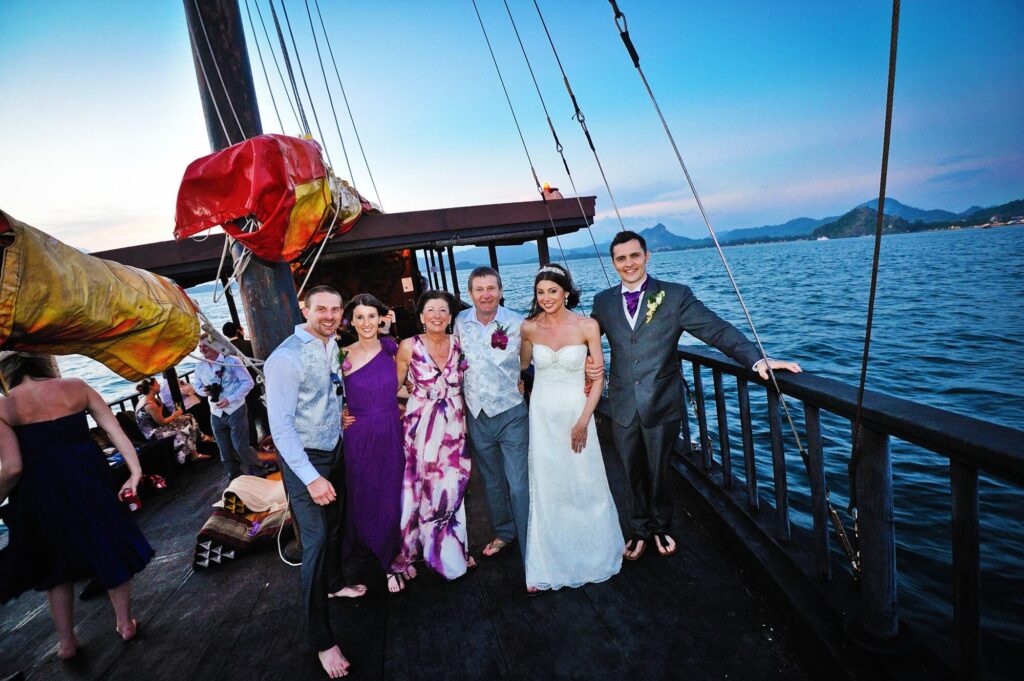 Let us tailor your special day out, drop us a note in our Private Boat Hire enquiry box and tell us what you're looking for. Our staff are on hand to make an experience that you will never forget.