Krabi, a hidden gem nestled on Thailand's southwestern coast. With its endless beaches, captivating natural wonders, rich cultural heritage, and exciting adventure activities, Krabi offers a paradise-like experience for travellers seeking the perfect blend of relaxation and exploration.
While a lot of Thailand's beach towns and islands have been heavily consumed by tourism, Krabi still possess a lot of authentic charm – and that's why we made it our home!
Whether you're a beach lover, adrenaline junkie, a nature admirer, or a cultural explorer, our favourite Thailand destination has something to offer for everyone. Let's dive into the best things to do in Krabi and uncover a few of our best-loved, lesser-explored spots to help plan your trip. To make things a little easier for you to navigate, we've split this informative article into helpful categories:
Beach Bliss: Sun, Sand, and Serenity in Krabi
Ao Nang Beach
Ao Nang Beach is a must for anyone who has enough time to spend a few days in the Krabi area. Just a half-hour drive or taxi from Krabi Town, the small resort town is a vibrant and popular destination in Krabi that offers a perfect blend of relaxation and entertainment. Ao Nang Beach is a long stretch of sand with cliffs at either end. The town's main strip of bars and shopping runs parallel to it. It's an energetic place to take a leisurely stroll along the promenade, pop into restaurants and bars and keep your fingers crossed for one of Krabi's famous electric pink sunsets.
Most evenings, you'll find local boys performing fire shows on the sand an hour or so after sundown. Ao Nang Beach also serves as a gateway to nearby islands (there are an overwhelming amount of travel and tour vendors here) making it a convenient starting point for island hopping adventures.
Railay Beach
Nestled between towering limestone cliffs, Railay is a paradise accessible only by boat, creating a secluded and more tranquil atmosphere than Ao Nang. Railay has 3 beaches, and Railay Beach is one of 2 that your boat transfer will drop you off on (the other one is Railay East, usually reached by departure from Ao Nam Mao Pier). Known for its breathtaking beauty, Railay Beach is a haven for rock climbers due to its challenging cliffs. A small walking street shoots away from the beach, lined with laid-back bars playing reggae tunes, a welcome shelter from the hot Thailand sun during the mid-afternoon hours.
Phra Nang Beach
Railay's national park beach, Phra Nang Beach is often regarded as one of the most beautiful beaches in the world, thanks to its powdery sands, colourful waters, and dramatic limestone cliffs. Longtail boats used to line the shores here, selling fruits and beverages, but today they are banned to ensure the waters are kept pristine. The beach is home to the Railay Princess Cave, a sacred shrine filled with phallic symbols that locals believe brings fertility and good fortune. Spend your day basking in the sun, swimming in the warm waters, or exploring the nearby caves. Phra Nang Beach also offers fantastic rock-climbing opportunities, but we'll come back to that later.
Nopharat Thara Beach
If you love hanging out with the locals, Nopharat Thara Beach might just be the beach for you. Its sandy stretch is 3 kilometres long and is lined with casuarinas trees, which provide wonderful natural shade from the hot sun. With its clear, warm, and shallow waters, it's a reliable place to take children who can't wait for you to finish slapping on the sunscreen so they can head out for a splash.
Klong Muang Beach
For those seeking a more peaceful and serene beach experience, Klong Muang Beach is a good choice. Located further up the coast, away from the bustling crowds, this hidden gem offers a tranquil atmosphere and picturesque views of the Andaman Sea. Klong Muang Beach is also known for its luxurious resorts and beachfront dining options, making it an excellent spot for a romantic getaway or a rejuvenating escape.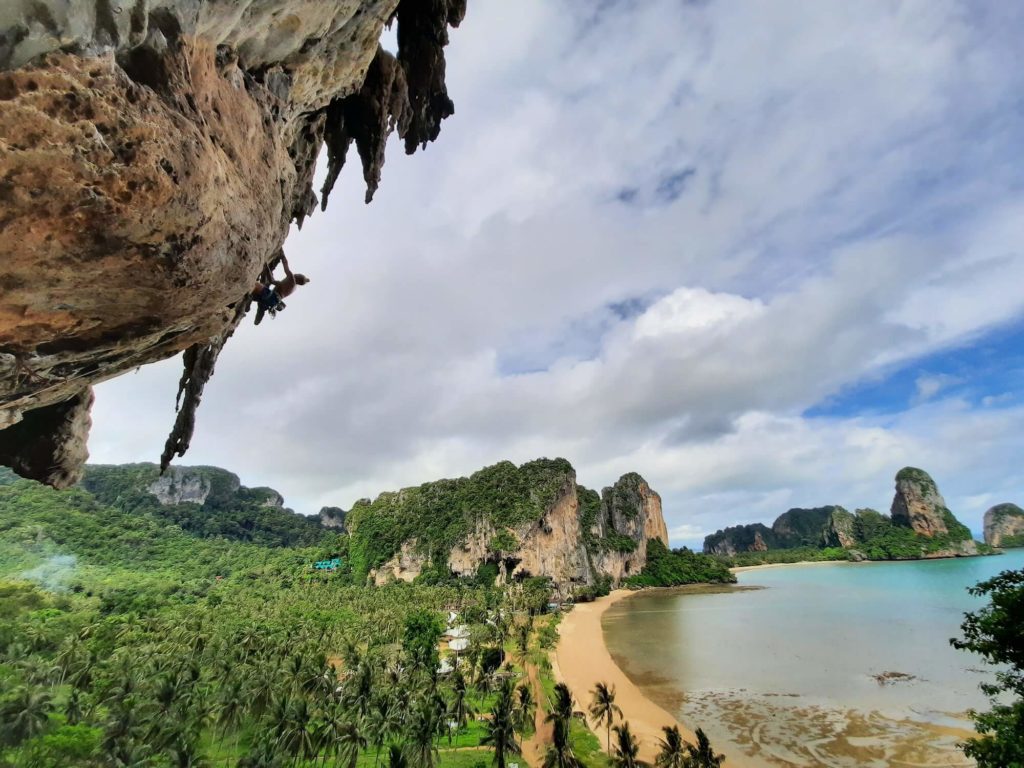 Thrill Seeker's Paradise: Exciting Adventure Activities in Krabi
Krabi Rock Climbing
Krabi is renowned as a rock-climbing mecca, attracting climbers from around the world. The towering limestone cliffs offer a variety of routes suitable for climbers of all skill levels, from beginners to advanced climbers. Railay Beach and Ton Sai Beach are particularly popular spots, offering challenging routes and breathtaking views. There are multiple climb shops in Railay that rent gear and who will take you out on half-day climbs to suit your experience.
Kayaking in Ao Thalane
The Ao Thalane Mangrove Forest is about a 30 to 40-minute drive from Krabi Town, but if you book a tour, your transfer is usually included. The watery adventure will see you travel through the forest and into a cove, canyon, and lagoon.
TOP TIP: Be sure to check tides before your visit if you want to be able to experience the full route; a low tide only allows for a shorter route (and often the booking agents won't reference this).
ATV Adventures in Krabi Jungle
Get your adrenaline pumping with an ATV (all-terrain vehicle) adventure through Krabi's green jungles. Explore rugged terrains, manoeuvre through dirt tracks, and navigate your way through dense foliage. Not for the faint-hearted, you'll be faced with challenging trails and witness panoramic views from elevated vantage points. There are lots of companies that run ATV experiences in the area and, as with the kayak tours, providers will usually include transfers from your hotel (or a convenient location). They are a fun (and slightly muddy) way for you to discover the region's natural beauty and diverse ecosystems.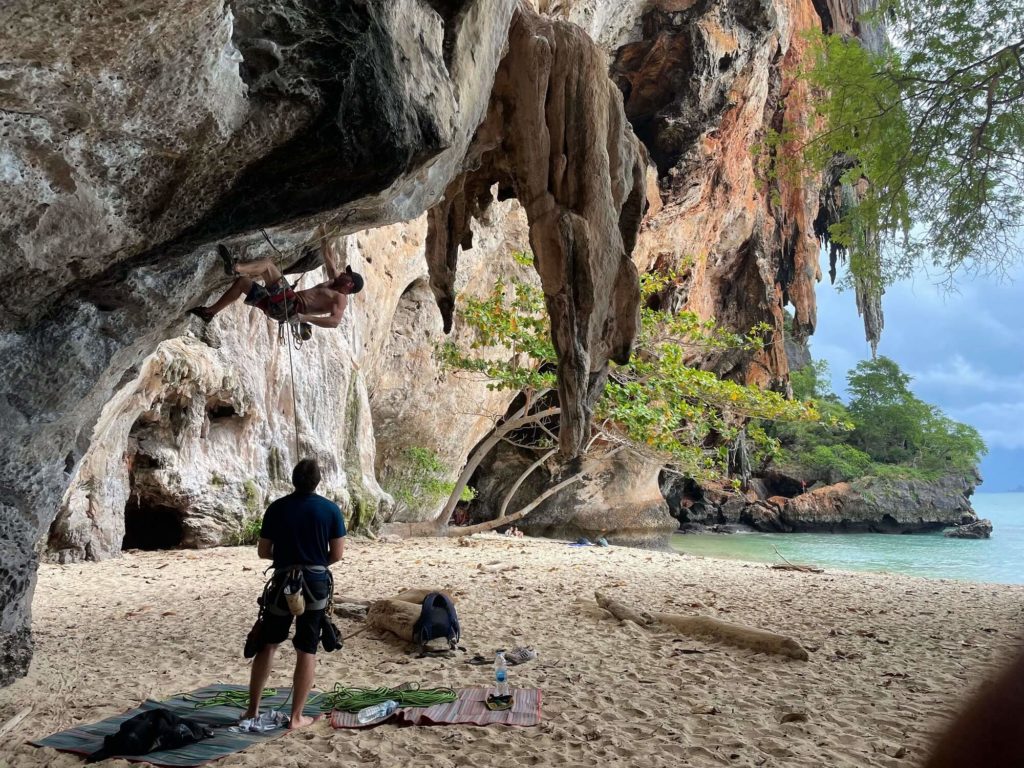 Island Hopping: Exploring Krabi's Incredible Archipelago
Phi Phi Islands
The world-famous Phi Phi Islands became a traveller must following their appearance in the movie 'The Beach'. Phi Phi is made up of six islands with Maya Bay being one of the most frequented daytrip stops in Thailand. The area is also celebrated for its crystal-clear scuba waters, teeming with marine life.
Koh Hong
Hong Island is a popular day tour from Krabi known for its dramatic limestone cliffs and ultra-soft sandy beaches. Once there, a quick glide through a narrow rock opening will bring you out into the turquoise waters of the lagoon, where visitors can take a secluded dip. Koh Hong is a paradise spot for marine life, providing excellent snorkelling opportunities to encounter colourful fish. However, it's worth noting that this area is National Park space and there is an entrance fee of around 400 Baht to be paid – make sure your provider covers this in your tour fee, or you might be left with additional costs!
Four Islands
Krabi's Four Islands Tours are one of the main reasons that so many travellers choose to add the area to their itinerary. The nearby islands, namely Poda, Chicken, Si and Ta Ming offer an unforgettable (and convenient) island-hopping experience. Koh Poda boasts picture-perfect coral reefs, ideal snorkelling and free-diving – it's one of our favourites as we often see clown fish at this stop.
Chicken Island is named for its peculiar rock formation that resembles a chicken's head, while Koh Si and Ta Ming are both equally beautiful islands do anchor beside to watch the sun go down across the Andaman Sea. Krabi Sunset Cruises Sunset Tour also provides kayaks and stand-up paddle boards for our guests to use during their trip around these locations.
Koh Lanta
Venture further south to the tranquil island of Koh Lanta, known for its laid-back atmosphere and long picturesque beaches. Alongside it's golden sunsets, warm hospitality and multiple snorkel sites, the island is home to a number of unique nature hotspots, including the incredible Khlong Jark Waterfall and intriguing Khlong Chak Bat Cave.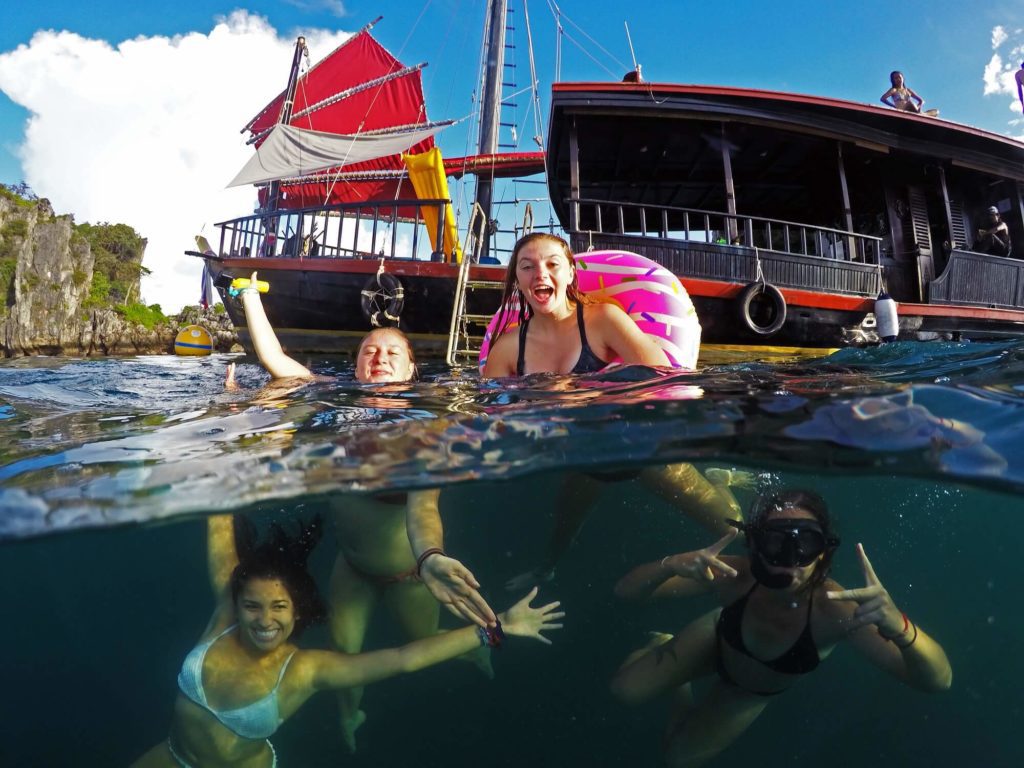 Marvels of Nature: Discovering Krabi's Jaw-Dropping Natural Wonders
Shell Fossil Cemetery
Krabi's Shell Fossil Cemetery is a geological site where ancient seashells have fossilised into rock formations. Be warned, at first sight, this popular tourist attraction doesn't seem to offer much. However, look closely, and you'll see thousands of tiny, fossilised shells – one of only three such sites in the entire world and the only one of those three to be found on the coast. The small visitor's centre sheds light on the area's geological history and provides insight into the fascinating processes that led to the formation of this natural wonder millions of years ago.
Khlong Thom Hot Springs
The healing waters of Khlong Thom Hot Springs are a fair distance from Krabi Town, and so we advise you book a tour or hire a car to visit them. Renowned for their therapeutic properties, the springs are nestled amidst the lush rainforest and the cascading waterfall here gracefully pours into inviting stone pools, heated by the geothermal wonders of nature. These natural hot tubs maintain an average temperature ranging from 35 to 40 degrees Celsius and are a great follow-up to a challenging hike.
Cultural Immersion: Unveiling Krabi's Rich Heritage and Local Traditions
Krabi Town Night Market
The bustling night market in Krabi Town comes alive every weekend and provides a lively, local atmosphere where you can explore rows of stalls selling local handicrafts, artwork, and fresh street food. The night market is an energetic place to engage with friendly vendors (and perhaps practice your Thai language skills – the locals love to see you try!) and witness traditional Thai performances.
Ao Nang Weekday Market
If you're staying in the Ao Nang area and Krabi Town just seems that little too far, then the Ao Nang Weekday Market is a handy (and less touristy) alternative. Located next to next to Makro on the road between Ao Nang and Ao Nam Mao, the canopied market only a short taxi or songtaew ride (songtaews can be flagged down on the road that runs alongside Ao Nang beach). The space is lined with stalls selling fresh food, drinks, take-away meals and even second-hand clothes – all at local Thai prices. We love the colourful donut stand and fresh fruit vendors.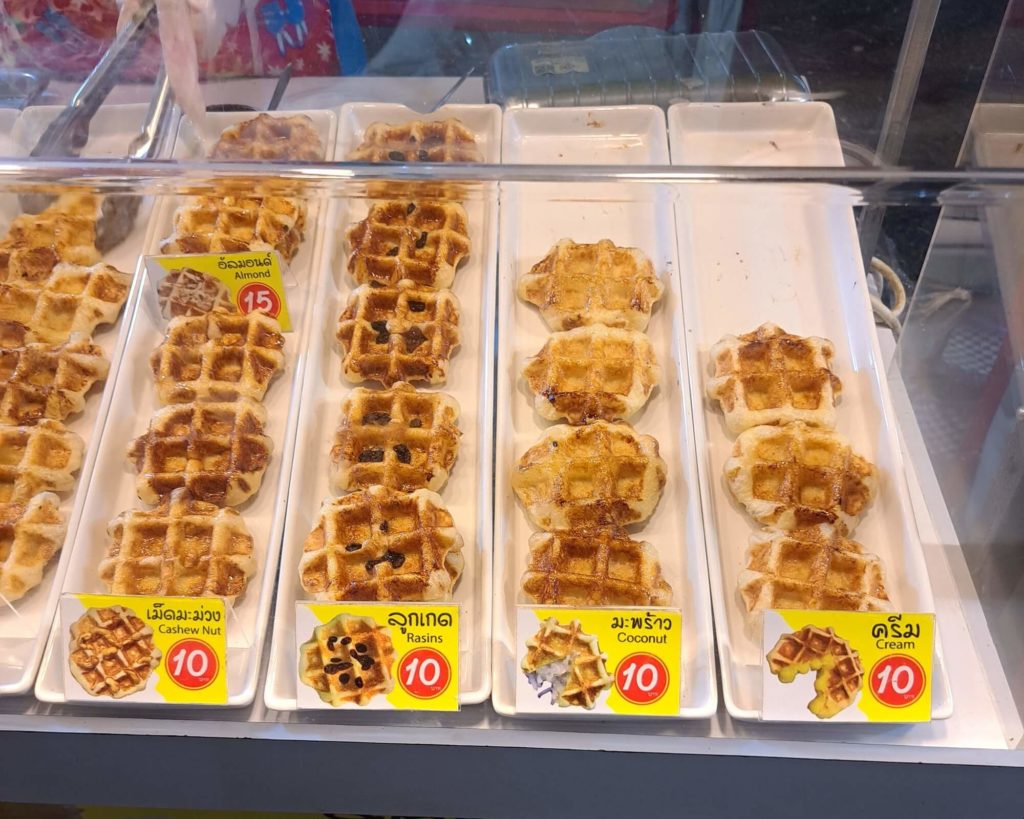 Temple Treasures: Exploring Spiritual Sites in Krabi
Wat Tham Sua (Tiger Cave Temple)
Wat Tham Sua, also known as the Tiger Cave Temple is a sacred Buddhist site nestled in Krabi's mountains amidst lush jungle, boasting a large golden Buddha statue at its summit. Challenge yourself by climbing the 1,237 steps to the top, where Instagram-worthy panoramic views of Krabi await. This is not for the faint hearted, the climb is steep, and we recommend you take a large bottle of water for the route (there are plenty of shops at the base of the mountain within the temple grounds). Bear in mind that, despite the physical workout, this is still a religious site, and you must dress appropriately.
Ao Nang Mosque
Ao Nang Mosque, a walk or bike ride from Ao Nang Beach, is noted for its simple architecture and peaceful atmosphere. The mosque serves as a symbol of harmony, blending diverse cultures and religions in the predominantly Buddhist country. Respectful visitors can explore the premises, but when visiting, must remember to dress modestly, cover your head, remove footwear, and avoid disturbing worshippers. Entry is free.
Wat Kaew Korawaram
Wat Kaew Korawaram, a magnificent white Buddhist temple, is ideal for travellers without a bike or transport, as it is conveniently located in the heart of Krabi Town. It's intricate architectural details and ornate decorations reflect Thai craftsmanship, and it is a serene Krabi highlight that allows visitors a glimpse into Buddhist traditions and teachings.
Wat Sai Thai
If you're not paying attention, you might well miss Wat Sai Thai, distracted by dramatic limestone cliffs and greenery. Situated along the Route 4034 that leads from Krabi Town to Ao Nang, this hidden gem marks the beginning of the renowned "Krabi Romantic Road." The temple's reclining Buddha is gracefully tucked under a towering cliff and serves as the centrepiece of the temple. As you explore the grounds, you'll also come across an array of small sitting Buddhas, each exuding its own unique charm and significance.
Looking for more incredible things to do in Krabi? Try an island tour aboard our two-deck, wooden Siamese junk boat and take in the area's insights from a unique perspective.
Early risers will LOVE our Champagne Morning Cruise, complete with gourmet breakfast, while late snoozers can pick up the day from the comfort of our famous Sunset Cruise. Our teak deck is perfect for relaxing and taking in the majestic views and we end the day with dinner and a sail back towards the Railay Peninsula whilst watching the sunset over the Andaman.