We've been running our Krabi Island Tours for over 10 years now, so we'd like to think we know a thing or two about the area and what makes a great boat tour here in the southwest of Thailand!
Every day, we meet Krabi travellers looking to set out on the waters and spend a day exploring the islands that have come to make the province so appealing. In this blog, we'll be highlighting (what we believe) are the best things to see on a Krabi island tour, as well as addressing some of the questions about the boat tours we hear most frequently …
A 4 Island Tour or a 7 Island Tour in Krabi?
A 7-island tour in Krabi is technically not an island-only tour. There are 5 key islands near the shores of Krabi and Ao Nang in particular: Koh Poda, Koh Tup, Chicken Island, Koh Si, and Ta Ming.

Alongside those 5, there are a few smaller ones, Koh Daeng for example, that tend to be visited less frequently on account of their size. So what's the key difference between the trips? Let's break it down …
4-island Krabi tour
A 4-island Krabi tour will usually stop by Koh Poda, Koh Tup, Chicken Island, Koh Si, and Ta Ming – we often find that Koh Poda and Koh Tup are interchangeable. Koh Tup is owned by Thailand's National Park Service and, as a result, there is a fee to land on it; this varies according to the season. While Koh Tup is a desirable stop point, on account of if dreamy tropical sandbar, it's worth noting that it can get quite busy in high season. You should also check to see whether the national park fee is included in the price of your tour, as this often catches new visitors to the area out.
7-island Krabi tour
A 7-island Krabi tour often makes up island numbers by including the likes of Railay's Phra Nang Beach and a final nighttime offshore stop to see the fluorescent plankton. While Railay should definitely be on your Krabi bucket list, we need to be clear that it's technically not an island. Railay is a small peninsula between the Krabi Town and Ao Nang, only accessible by boat due to high limestone cliffs that cut off mainland access.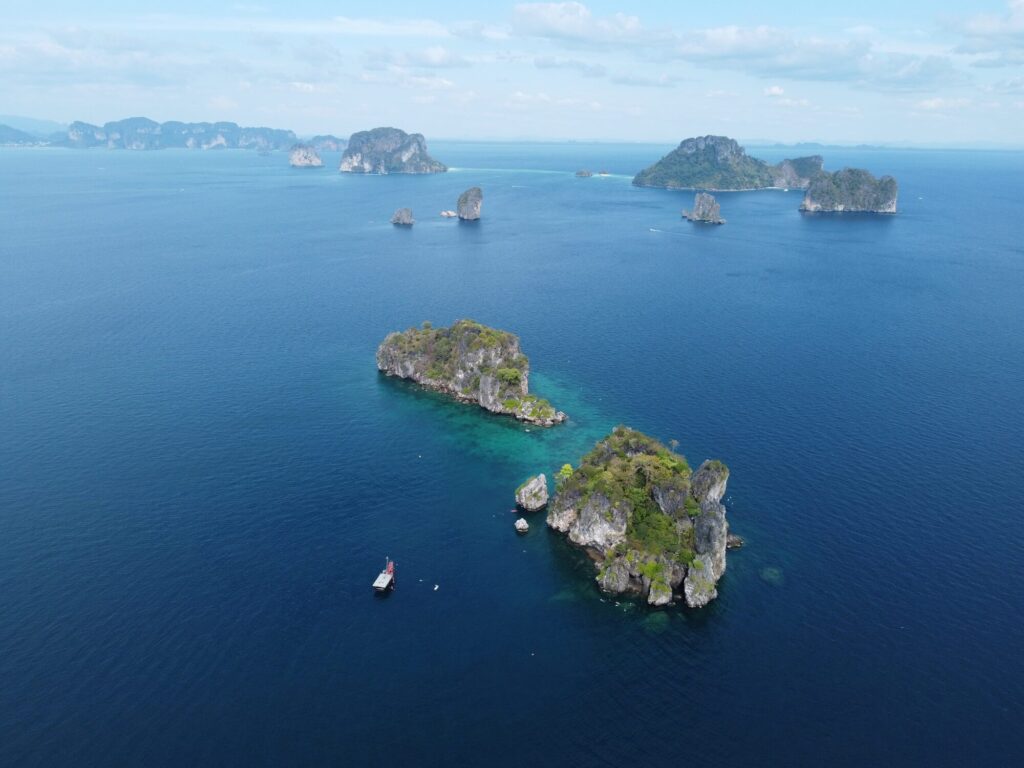 Krabi Island hopping packages: Morning or afternoon?
The answer to this question really depends on what you want to see. Let's take a look at the details …
Krabi island morning tour
A Krabi island morning tour will often feel a lot quieter, with less chance of running into other tour groups. This is because a lot of them go out in the afternoon to finish with a sunset dinner. They're a great way to enjoy Krabi's best snorkelling spots with no one else around.
Our 4 Island Champagne Breakfast Morning Cruise includes a full gourmet breakfast along with coffee, tea, juice, soft drinks, water, fruit, and snacks.
Krabi island afternoon sunset tour
A Krabi island afternoon sunset tour usually starts at convenient pickup point in Krabi, Ao Nang, or Ao Na Mao, or from your hotel at around 1-2pm. The islands you visit will tend to be the same as the tour operator's morning tour option – visiting some of the islands listed above. Many promise dinner while the sun goes down across the Andaman Sea, on one of the named islands or on their boat (when/if they have space). The cheaper beach dinner options tend to consist of a simple BBQ meal: skewers, a curry or two, rice, and sometimes fruit.
A number of tours will keep you out past sundown, bringing you back to the dark cliffs around Railay for a chance to hop into the dark waters and swim alongside the bioluminescent plankton. This is especially exciting on cloudy, moonless nights, when the darker skies lend themselves to the bright light omitted from the tiny organisms.
Our Krabi Sunset Cruise sets sail with a two-floor wooden Siamese junk boat. We also have snorkelling equipment, a 2-person kayak, and 4 stand-up paddle boards for guest to use throughout the trip (prescription masks are also available). While many are limited to what smaller boats can carry to the beach, our Thai buffet dinner provides multiple options for all diets and you can enjoy the sunset from either the top or main decks.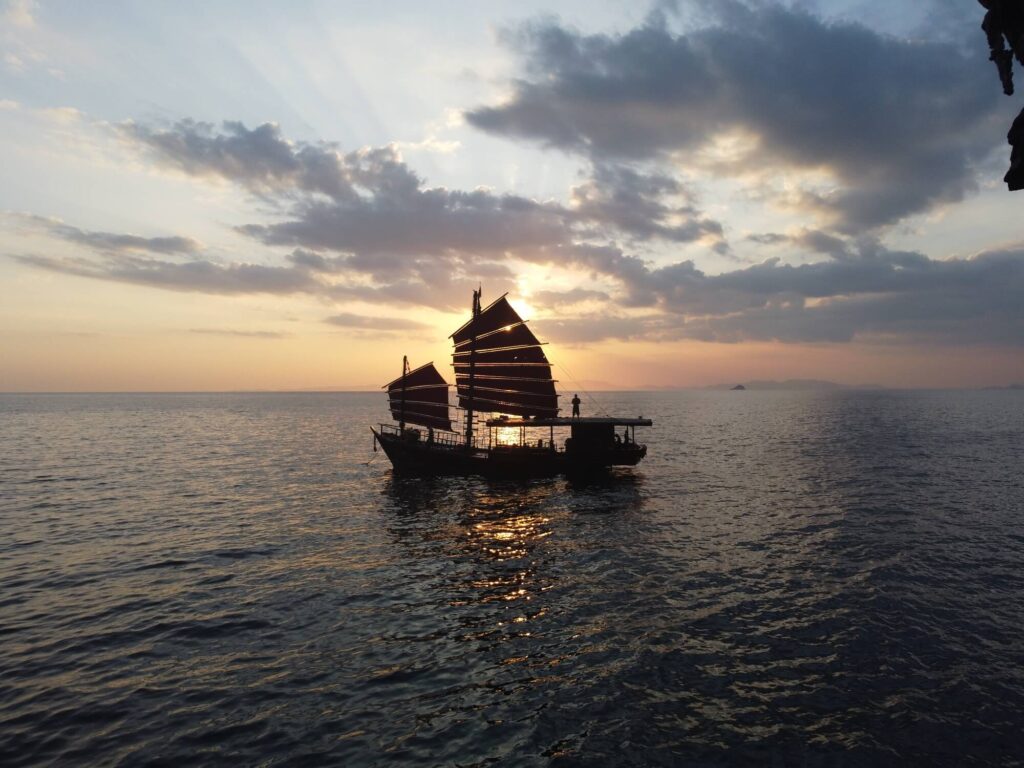 Island tour costs in Krabi: How much for the four-island experience?
The cost of a 4-island tour in Krabi will differ quite significantly depending on the style of transport you choose. When it comes to boat options, you'll find a trio of choices:
Longtail boats
Speed boats
Larger boats
Each offers a unique experience. Longtail boats exude charm with their traditional Thai design and slower pace, ideal for those who savour the journey and who might be on a budget. Speed boats, as the name suggests, get you to the islands quickly, making them perfect for those who want to maximise their island-hopping time. Larger boats cater to larger groups, providing spacious comfort for family or group outings, and have the ability to bring extras such a paddle boards, more luxurious refreshments, and (if required) host special events.
So, how much should you budget? On average:
A four-Island tour with a longtail boat in krabi might cost around 500 and 800 Thai Baht per person.
Opting for a speed boat will typically set you back a bit more, with prices ranging from 1,000 to 1,500 Thai Baht per person. Bear in mind that both this option and the longtail boat tours very rarely include the National Park fee that everyone has to pay. This fee is 400 Baht per adult, and 200 Baht for children.
If you prefer a more spacious experience on a larger boat, expect to pay around 2000 to 5000 Thai Baht. Remember, these costs can vary depending on the season, tour operator, inclusions, and any special offers.
Krabi Island Tour itinerary: Highlights and must-visit destinations
Touring the waters of Krabi is like stepping into a postcard-worthy paradise. Each island has its unique charm and offers us different things to see, making it a challenge to pick a favourite. Here's a snapshot of the more well-known, must-visit destinations and their highlights:
Tup Island – Crystal clear waters and the "sandbar miracle"
During low tide, a narrow sandbar emerges, connecting Tup Island and Koh Mor. Ever taken a leisurely stroll in the middle of the sea? Well here's your chance! As previously noted, this is a Thai national park space, and so 'landing' fees apply. With this being one of the larger islands surrounding Krabi, the locals have set up a number of small eateries for you to pick up snacks. The waters here are fairly rocky, so it's not the best of the islands to go snorkelling/swimming.
Chicken Island – Iconic rock formation
One of our favourite photo spots of the tour! Chicken Island gets its name from a unique rock formation that resembles a chicken's head and neck. Due to the rocks here, there is no getting on to this island, but many tours do a short stop at the base of the cliff to snorkel.
Poda Island – Powdery white sands and serene beach vibes
If you land on Poda while the tours are out in force, we recommend you use your beach time to immediately head further down the beach, away from the boats and the crowds. At the quieter side you'll find clear turquoise waters, and paradise jungle in which you can take shade beneath the trees. If you swim out to the snorkelling spots of Koh Poda, you're likely to see sea urchins, coral, angel fish, crabs, and barracuda (to name a few).
Phra Nang Beach – Bioluminescent plankton
One of the most unique things to see and do in Krabi, these tiny organisms produce a magical phenomenon in the ocean, reacting with the light and creating a starry experience in the water. While the best views come from getting in the water with a snorkel and mask alongside them, you can still see them glowing from your boat.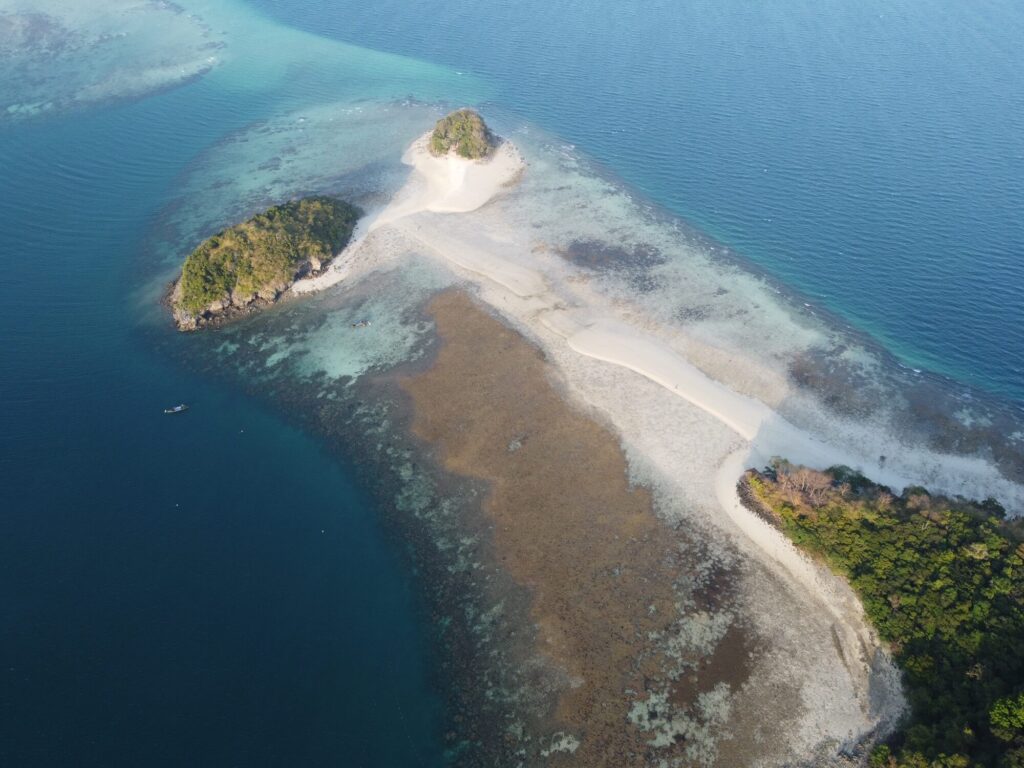 A journey through Krabi's National Parks – Exciting sea life sightings
While it's true that the island stunning landscapes are an important part of the Krabi boat tour experience, for us, it's the area's thriving marine life that makes the day out truly unforgettable. To give you a taste of what to expect, below we've showcased some of the incredible fish and mesmerising creatures our guests have had the privilege to encounter during their journey with us.
From the endearing clownfish, known for their unique personalities, to the awe-inspiring, colossal sea urchins that dwell beneath the waves, Krabi's marine life is a true testament to the wonders of nature.
Our commitment to providing informative resources, such as our onboard identification books complete with vivid photos, ensures that every guest can truly appreciate and understand the fascinating aquatic life they encounter on our tours.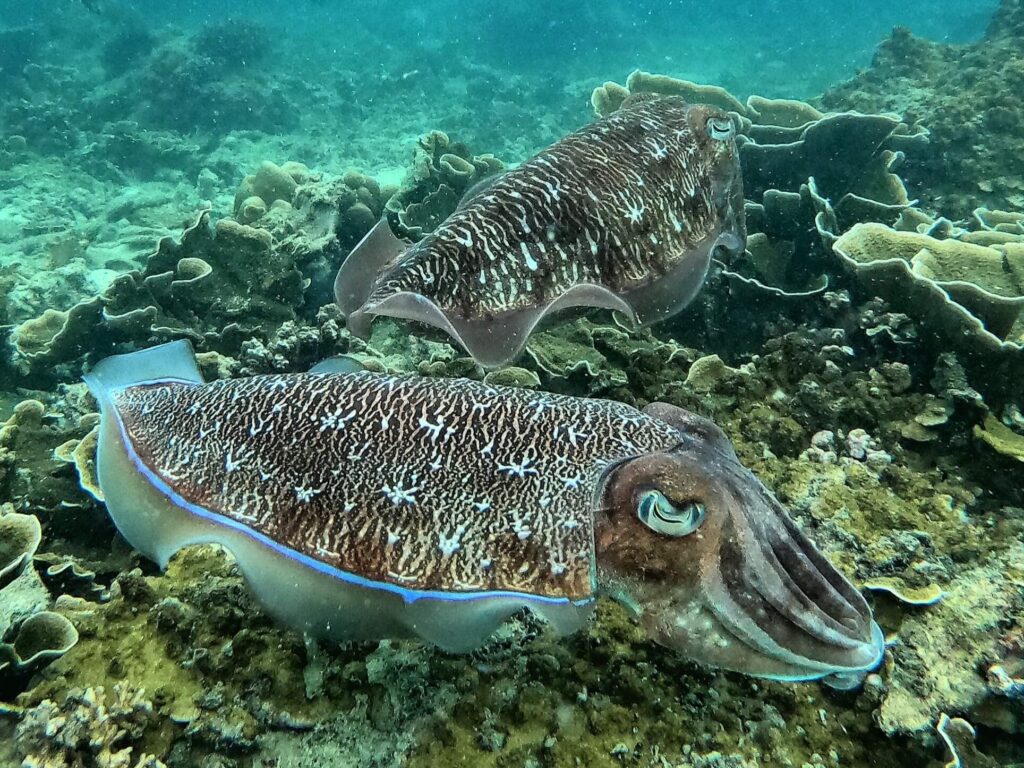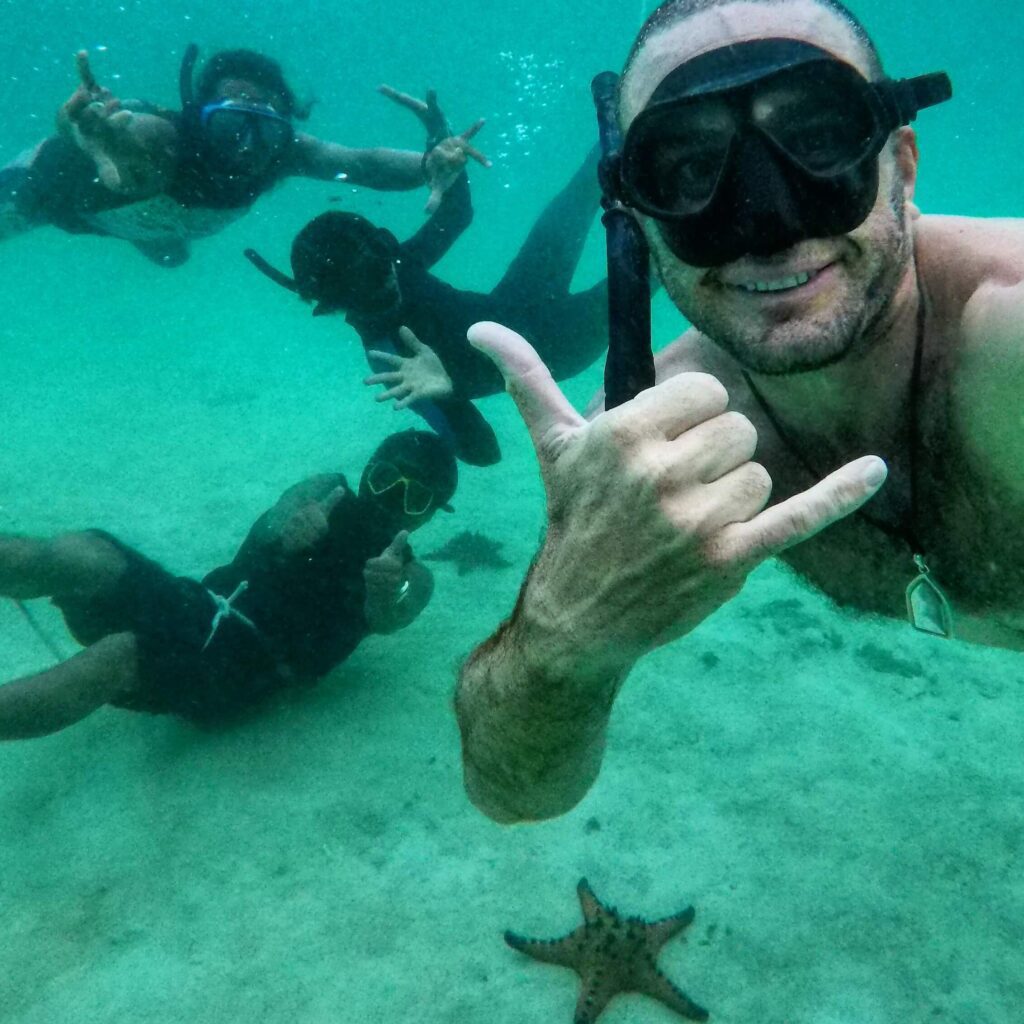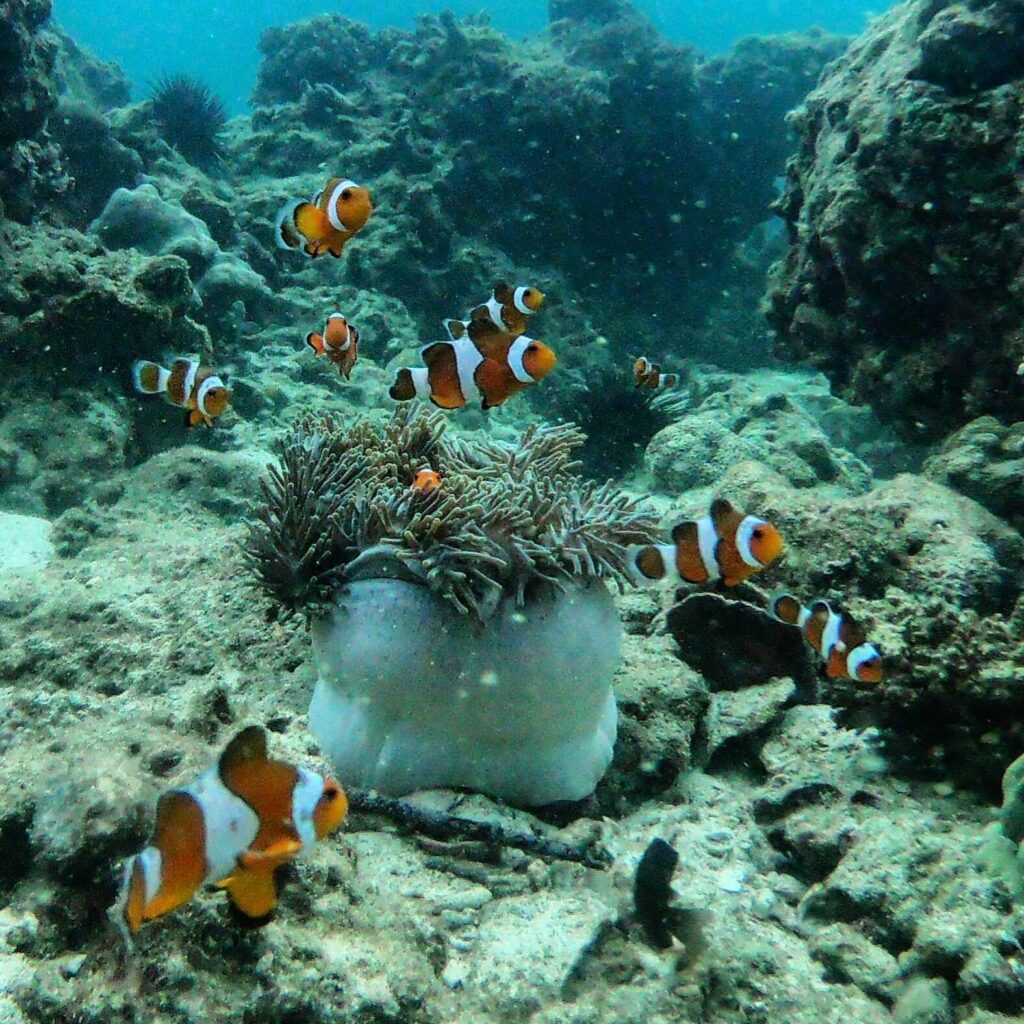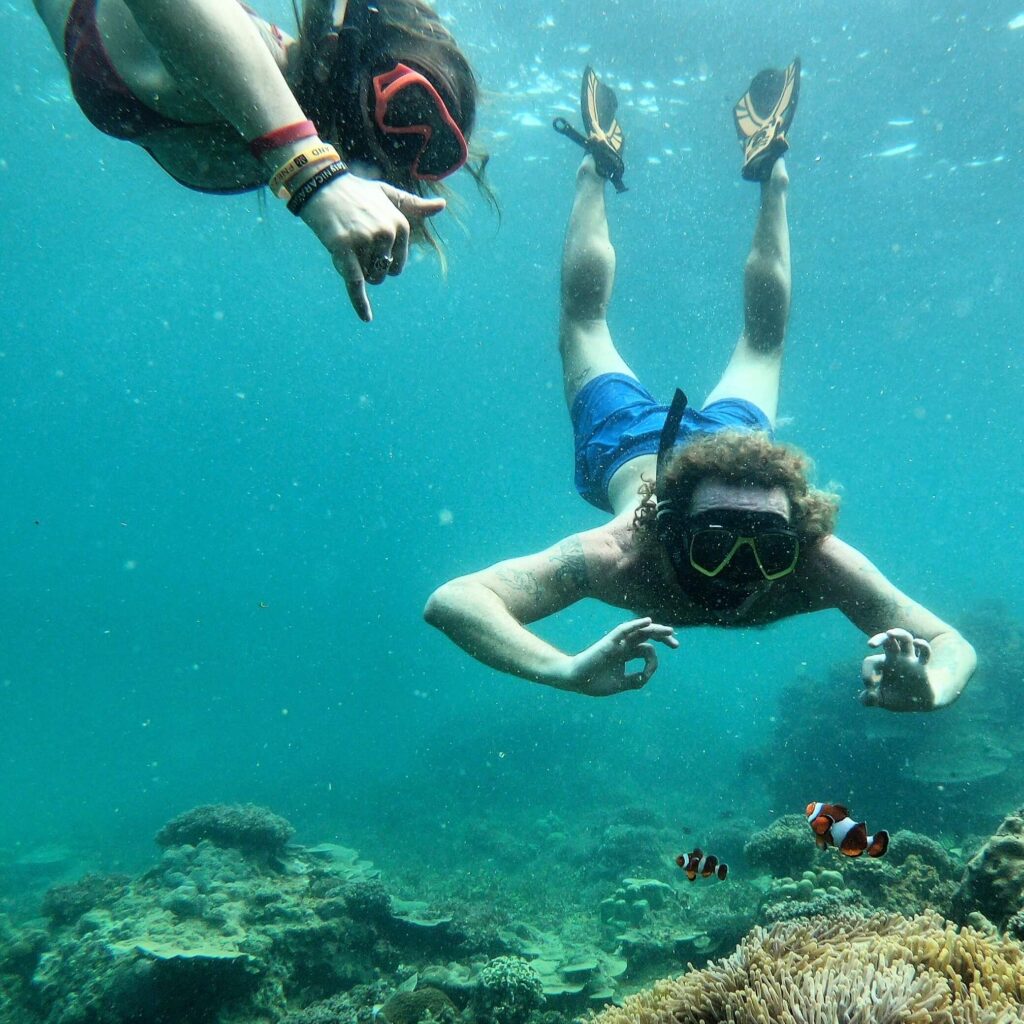 Want to hang out with our guides and see them for yourself? Join one of our Sunset Cruises or Morning Krabi Tours.