Making sure your time in Krabi Counts!
As we move into 2019 most of us have a long list of resolutions and things that we want to accomplish in the coming twelve months. For many, this involves travel, adventure and discovering new places. If you're already in Krabi, or on your way to this magical destination in southern Thailand, then you, my friend, will already be starting your year off on the right foot!
One thing's for sure, there are loads of great activities to keep you busy during your time here – the difficult part will be deciding which you most prefer. To help out with that we've put together a list of our top things to do in Krabi:
1. Viewpoint Railay Beach
One of the first things you'll notice when you arrive in Railay Beach in Krabi is the towering cliffs that surround the area. While Railay is a world-famous destination for rock climbers with it's giant pillars of limestone that extend into the sky, if you're not so much into scaling up the dramatic cliffs, you may find hiking to the viewpoint to be more your cup of tea. The hike is just less than a kilometer, but it's pretty strenuous and the view at the top is just WOW! Go for another 10 minutes or so onward and downward past the viewpoint to enjoy a saltwater lagoon.
2. Tab Kak Hang Nak Hill Nature Trail
If you love hiking and incredible views, then this hike, which claims to offer not just the best views in Krabi province, but in all of Thailand, will not disappoint. Round trip it'll take about 6 hours, which includes an hour or so at the top to enjoy the scenery and snap a few photos. What awaits you at the summit is a spectacular view of the bay below and the plains. The hike is rated moderately difficult and is steep in parts, so you'll need a good pair of shoes and lots of water to keep you hydrated on the climb up. We also recommend that you go earlier in the day when the heat is less intense.
3. PhraNang Cave
Up for some light cave exploration while in Krabi? Then a visit to PhraNang Cave, also called 'Princess Cave', located on the east side of Reiley Bay, will make for a great day trip. The cave is only accessible by boat, and it's well-known for its awe-inspiring stalagmites and stalactites. When you arrive at the PhraNang Cave you'll be surprised to see that it's actually a phallic shrine to a princess goddess. Fisherman use to come here to make offerings, which they believed would bring them good luck in their catch. The cave is situated on a stunning beach and it's a great place to chill and spend the day.
4. Take a Krabi Sunrise or Sunset Cruise
We left this one for last because we believe it's the most spectacular, and it's sure to either start or cap off your day in just the perfect way! A Krabi sunrise or sunset tour will take you by wooden Siamese Junk out to the five islands – Poda, Tup, Si, Ta Ming, Wasam and Gai where you'll spend the morning, or afternoon, swimming in bioluminescent waters, snorkeling, kayaking and paddle boarding while soaking up the sun and taking in the views of the break-taking surroundings. And if that isn't enough you'll then be wowed by a mouth-watering Thai buffet. Is this not the most perfect day in the most chilled, extraordinary setting?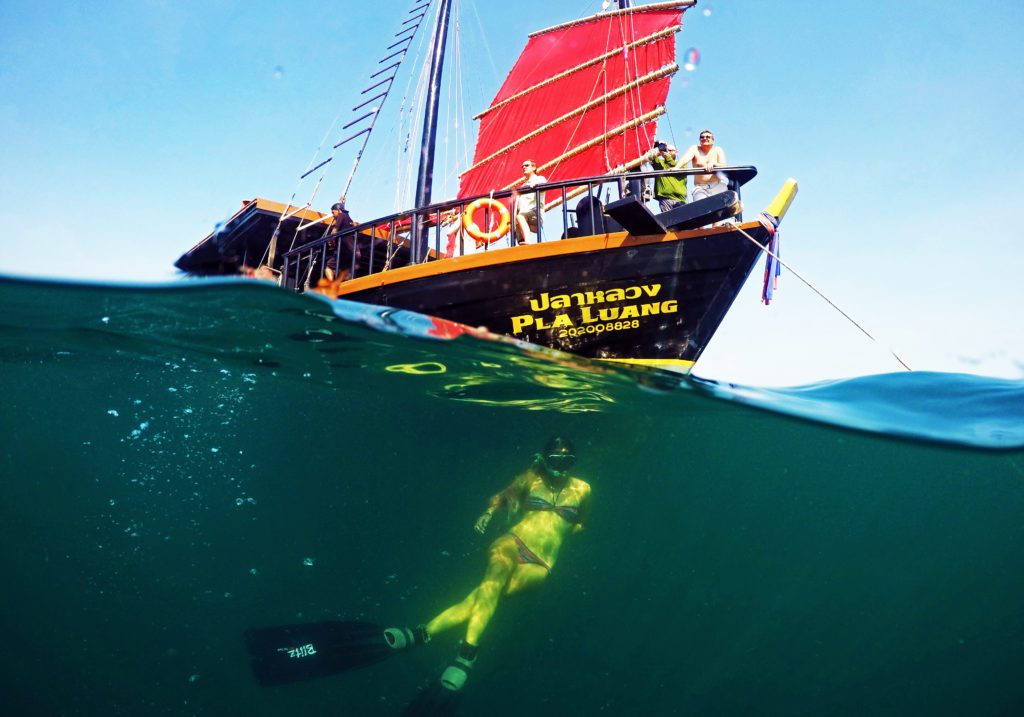 Again, while far from being an exhaustive list, we guarantee that checking out these activities and spots during your time in Krabi will make your trip to this magical place completely unforgettable!