Thailand is a very popular tourist destination for travellers from all corners of the planet. The country boasts many different landscapes – mountains, jungle, country-side, and beaches! And then there's the incredible cuisine, ancient culture, intriguing history and much more – there's something to satisfy all curiosities. If you have enough time, we highly recommend that you travel throughout the entire country, not just the coast. This is especially true if you're having a hard time deciding on what you want to see and what you're okay passing on. That said, if you're on a tight timeline, you'll want to stick to one area. So where should you travel in Thailand? We guess that totally depends on what you're looking for! Let's dive a little deeper into what each area has to offer so you can make this "tough" decision.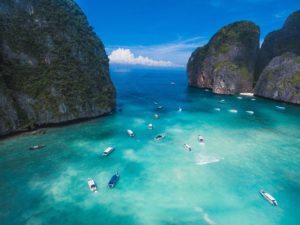 Thailand – Region Breakdown
Just like most countries, Thailand has huge differences between the northern and southern parts. One is not better than the other, they simply offer such polarizing experiences that you want to make sure the area you pick to travel in Thailand is right for you.
Northern Thailand is a vast landscape of mountains and valleys, basically a backpacker's paradise. The jungles offer the perfect place to see exotic animals. Southern Thailand has some of the most beautiful beaches in the world, where you can lounge all day with a fruity drink in your hand.
Where to Travel in Thailand
Northern Thailand
If you would prefer jungles over the ocean, then northern Thailand is for you. One of the biggest tourists attractions is the elephant sanctuary. You'll be able to get up close to see just how magnificent these animals are.
Northern Thailand has a much calmer atmosphere. You'll be lost in the beauty of the nature and it's the perfect escape from your busy life. Chiang Mai is the largest city in the north. It has hundreds of breathtaking Buddhist temples, including Wat Phra Singh and Wat Chedi Luang as well as so much more to explore. These parts of Thailand are rich in history and culture.
Southern Thailand
When you think about the perfect vacation, does it need to include a beach? If that's the case, then we urge you to check out southern Thailand. There are white sandy beaches and gorgeous turquoise waters wherever you go! You also have the choice to stay on land or explore the waters. Some of the best snorkelling spots in Thailand are in this area. One of the popular activities is to go on an island hopping cruise. You'll be able to tour around islands and jump into the water at each stop!
If you're looking to have fun and party until the early hours of the morning, you'll be happy to know that the nightlife in southern Thailand is amazing! Many bars are open late and there's plenty of transportation to get you home safe in the wee hours.
The food is mainly fresh seafood, so if you're not a fan, then the cuisine of northern Thailand might better suit your taste. However, all throughout the country, there's plenty of delicious tropical fruit for drinks and dessert. Thai cuisine is legendary with its spicy, sweet and tangy mix of flavours. Rest assured, it'll all taste so much better than anything you can get back home!
If your plan is to travel in Thailand, you will have an awesome vacation, no matter where you land. Remember, if you're looking to get in touch with nature and check out historic landmarks then northern Thailand is for you. Whereas, if you want to party on the beach all day and keep it going all night, then stick to southern Thailand. Each has a unique vibe, plenty of cool experiences and incredible memories just waiting to be made!