Where is Krabi?
Krabi is in Southern Thailand, on the western coast,a popular tourist destination due to its stunningly beautiful scenery and excellent activities, including snorkelling, rock climbing, and kayaking. It is known for its calm weather during the high season (between Novemebr and April), making it an ideal place to relax and enjoy the sun and, most importantly, take an island boat tour.
Which islands are normally included in a krabi 4 Island Tour?
Most Krabi four-island tours includes Koh Poda, Koh Gai (also known as Chicken Island), Ta Ming, and Si Island. In addition, some tours may include a trip to Tup Island, lifting your island count to five. You will also find a limited number of providers offering a 5 Island Tour with a final stop at Railay's Pranang Beach, for those that want to experience swimming in the bio-luminescence after dark.
However, it's worth noting that Koh Tup is a National Park island, meaning that there is a fee to land on it. While some tours many include this in their overall ticket cost, be sure to confirm this before taking your trip there.
Alongside Koh Poda, Koh Gai, Ta Ming, and Si Island, the Tup Island tour is an excellent opportunity to explore the most beautiful and untouched locations. With crystal clear waters, during low tides, the sandbar here appears and serves as a land bridge from one rock formation to the other, allowing exploreres to wade through the sea and cool off from the heat.
Overview of Krabi and its 4 Islands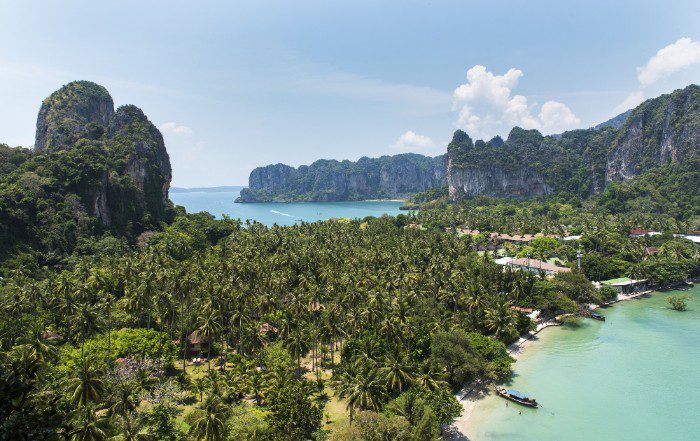 Krabi is a province in southern Thailand that is known for its stunning natural beauty and numerous attractions, such as Phra Nang Cave Beach (Princess Cave) It boasts an impressive coastline of sandy beaches, crystal-clear waters, and towering limestone cliffs. Krabi also includes four beautiful islands – Poda Island, Koh Gai, Si Island, and Ta Ming Island.
Reaching the Islands via boat
The main way to reach the four islands of Krabi is by boat tour, either from the mainland or from other nearby islands. You can start our Krabi Sunset Cruise from either Ao Nang beach or Railay beach. Boat tours to the islands can take as little as 30 minutes, or as long ad a full afternoon (depending on which island/islands you are travelling to). During peak season, there are high-speed ferries and longtail boats that provide convenient transportation to and from each of the islands.
What to expect from the tour (Activities, Sights, Food, Culture)
Poda Island
Poda Island is the most popular of Krabi's four islands and is considered to be the crown jewel of this picturesque province. It is known for its stunning white sandy beach, crystal-clear waters, and towering limestone cliffs that offer spectacular views.
The island also has a lush tropical jungle and (for private visitors) there is a place there where you can buy food and drinks. You migh even be lucky enough to see monkeys there!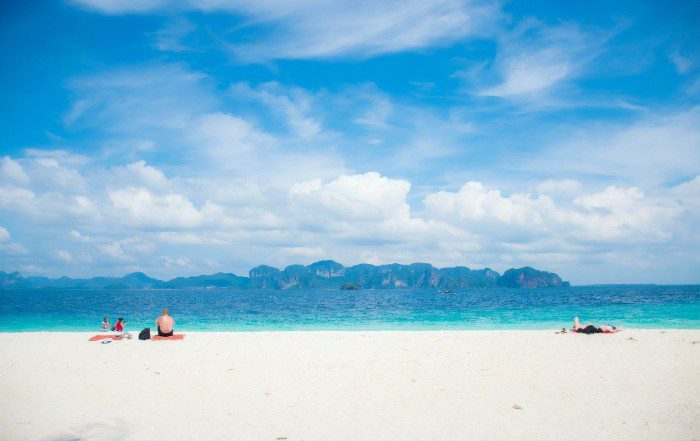 Koh Gai Island
Koh Gai is a smaller tropical island, with rugged cliffs, the most famous of which looks like a chickens head. While the landscape doesn't allow for you to walk onto Koh gai, the waters around it are a great place to snorkel.
Si Island
Si Island is the most remote of Krabi's four islands and boasts some of Thailand's best snorkeling spots. This spot is favoured by divers, as it is surrounded by two huge coral garden, with its clearest spot usually sitting to the south of the island. If you're very lucky, it's not uncommon to see seahorses, but you should also see snappers and scorpion fish.
Ta Ming Island
Ta Ming Island is an isolated paradise that is perfect for those looking for a sense of calm and tranquility. The island features a little cove with a hidden beach, as well as lush jungles and great waters for kayaking. It used to be a key spot for deep water solo climbing (where a fall would result in a drop into the waters below), but the National Park teams have put a restriction on that now.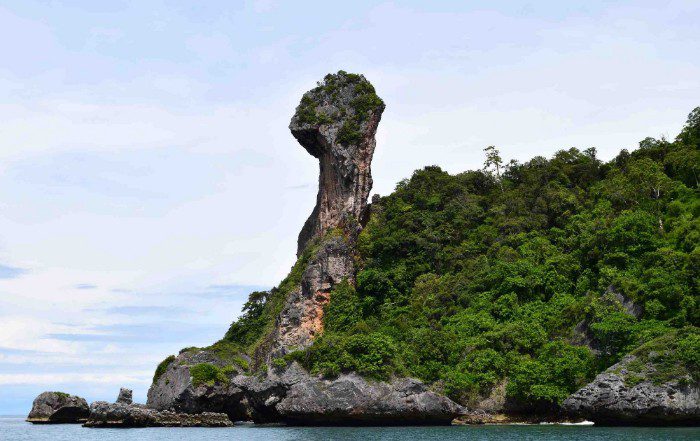 Safety Tips When Traveling in Krabi
When travelling in Krabi, it is crucial to stay safe. Before embarking on your journey, it is essential to do some research and familiarize yourself with local laws and customs. Here are some tips to help you stay safe while exploring this beautiful province:
Protect your Valuables
Make sure to keep cash, credit cards, and other valuables in a safe place or have a money belt. While Krabi provence doesn't have a reputation for tourist robberies or theft, we recommend that you take caution the way you would in any unfamiliar location.
Be Alert
Be aware of your surroundings every time, and be vigilant when walking around late at night. Again, Krabi (particularly Ao Nang) is relatively safe due to its high tourist count. However, like everywhere else, we don't recommend night-time walks alone in places that you're not used to.
Stay Hydrated
Make sure you drink plenty of water, especially during the hot season. At peak times, temparatures can reach 40 degrees celius, plus! In March 2023, a tourist lost their life while attempting the 1200 steps up to Krabi's famous Tiger Cave temple in extreme heat.
Follow Safety Advice
Always follow safety advice from local authorities and tour guides.
Respect the Environment
Take only photos and respect local wildlife, culture, and customs when you're exploring the islands. As tour operators ourselves, we spend a lot of time fishing out disgarded tourist litter from the waters, and clearing up after people on the beaches.
By following these simple tips, you can ensure a safe and enjoyable trip to Krabi.
How Much is the 4-Island Tour in Krabi?
Operator prices will vary significantly depending on the method of trabsport you choose. Longtail boat tours can start from as little as 900 Baht for a large group tour, while speedboat and larger boat costs range from 1,500 to 3000 Thai Baht per person. It's worth noting, the price you pay will regularly dictate the comfort and service you recieve, alongside the things provided by your guide.
Island tours typically include round-trip transport from your hotel in Krabi town, lunch and drinks throughout the day, and stops at locations like Tup Island, Chicken Island, Phra Nang Beach, and Poda Island.
Additionally, some operators may include travel insurance in the cost of their tour packages. It is essential to research different tour operators before deciding which one to book with for the best price and experience.
How to Book a 4-Island Krabi Tour
Booking a 4-Island tour in Krabi is easy. You can book a tour through an online travel agency or speak with one of the many small travel agent stores found along beaches and main streets.
We offer a quick and easy online booking for our Sunset Island Cruise and Morning Cruise: 4 Island Champagne Breakfast Cruise. If you'd prefer, you can call us +66(0)897197344, or email us: bookings@krabisunsetcruises.com