Where is Krabi Island?
Krabi Island is in Southern Thailand, on the western coast of the Kra Isthmus, and situated at the Andaman Sea.
Krabi is a popular tourist destination due to its stunningly beautiful scenery and excellent activities, including snorkelling, rock climbing, and kayaking. It is also known for its calm weather, making it an ideal place to relax and enjoy the sun.
Which Islands are included in the 4 Island Tour?
The Krabi four-island tour includes Koh Poda, Koh Gai, Ta Ming, and Si Island. In addition, you can have a trip to Tup Island, so you have five islands for the tour program. This is what Krabi Sunset Cruises offer. Instead of 4 Islands, you will have a stunning experience cruising to 5 Islands.
Apart from Koh Poda, Koh Gai, Ta Ming, and Si Island, the Tup Island tour is an excellent opportunity to explore the most beautiful and untouched locations. With crystal clear waters, fine white sand beaches, and lush tropical jungles, it is no wonder why Tup Island has become one of the most popular destinations for travellers.
Overview of Krabi and its 4 Islands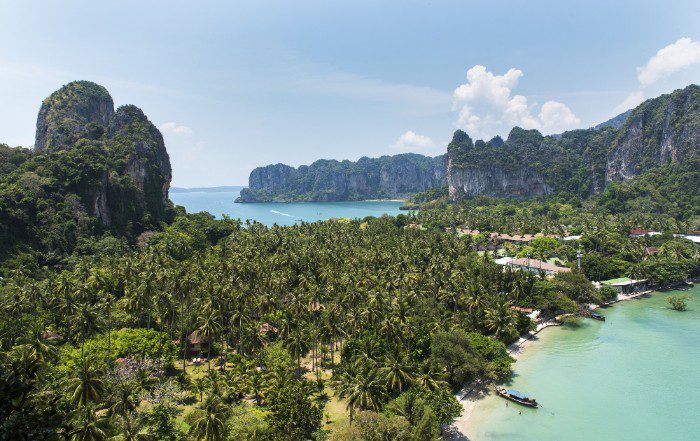 Krabi is a province in southern Thailand that is known for its stunning natural beauty and numerous attractions, such as Phra Nang Cave Beach (Princess Cave) It boasts an impressive coastline of sandy beaches, crystal-clear waters, and towering limestone cliffs. Krabi also includes four beautiful islands – Poda Island, Koh Gai, Si Island, and Ta Ming Island.
Reaching the Islands through Boat
The main way to reach the four islands of Krabi is by boat, either from the mainland or from other nearby islands. But our fun tour starts at Ao Nang beach and Railay beach. The boat tour usually takes between 30 minutes and 2 hours depending on which island you are travelling to. During peak season, there are high-speed ferries and longtail boats that provide convenient transportation to and from each of the islands.
What to Expect from the Tour (Activities, Sights, Food, Culture)
Poda Island
Poda Island is the most popular of Krabi's four islands and is considered to be the crown jewel of this picturesque province. It is known for its stunning view of a white sandy beach, crystal-clear waters, and towering limestone cliffs that offer spectacular views.
The island also has a lush tropical jungle and numerous hidden coves that are perfect for swimming or snorkeling.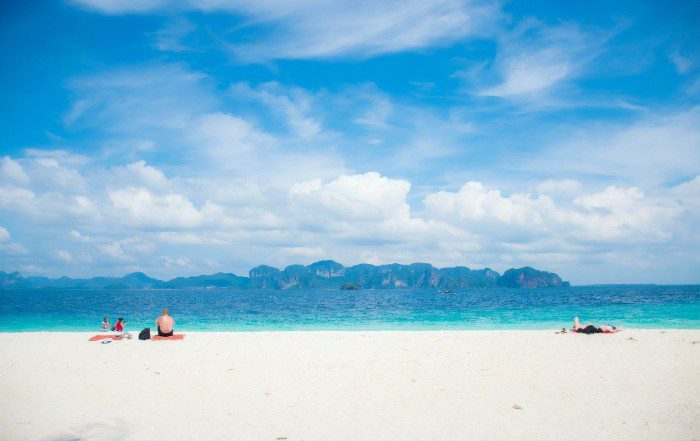 Koh Gai Island
Koh Gai is a smaller tropical island, with rugged cliffs, the most famous of which is the chicken head, and beaches that offer great opportunities for rock climbing, kayaking, and other activities. There are also numerous seafood restaurants on the island offering good food, where visitors can sample some of the region's freshest catches.
Si Island
Si Island is the most remote of Krabi's four islands and boasts some of Thailand's best snorkeling spots. The island has several small villages that offer a taste of local culture, as well as numerous seafood restaurants where visitors can sample fresh-caught fish and other delicious dishes.
Ta Ming Island
Ta Ming Island is an isolated paradise that is perfect for those looking for a sense of calm and tranquility. The island features some of the most beautiful beaches in Thailand, as well as lush jungles and hidden coves that are ideal for swimming, kayaking, and other activities.
Where to Stay
Accommodation on Poda Island ranges from budget guesthouses to luxurious beach resorts, so there is something for everyone. Prices vary depending on the time of year and the type of accommodation you choose but can range from 800 THB to 12,000 THB (approximately $25-$360).
Koh Gai is another popular island with plenty of mid-range hotels and resorts scattered along its rugged coastline. Accommodation typically ranges from 800 THB to 10,000 THB (approximately $25-$300) per night and includes a variety of styles and amenities.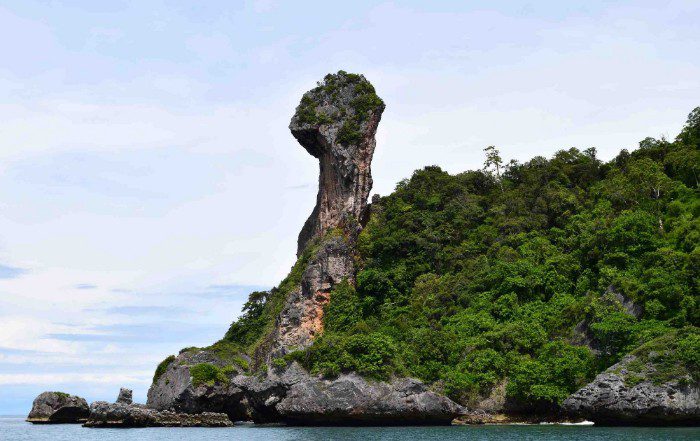 Si Island is the most remote of the four Krabi Islands, so accommodation options are more limited. However, you can still find affordable guesthouses and mid-range hotels for around 500 THB to 3,000 THB (approximately $15-$90) a night.
Ta Ming Island is the perfect destination for those looking to get away from it all. Accommodation options are limited but include several budget guesthouses and mid-range hotels ranging in price from 500 THB to 5,000 THB (approximately $15-$150) per night.
Going Around the Island
Travelling around the four main islands in Krabi can be a daunting task, but with these tips, you'll be able to navigate them efficiently. The first step is to decide how you'd like to get around. You can rent a car or motorcycle, take a taxi, use public transport, or even explore on foot or by bike.
Renting a car or motorcycle is the best way to explore the islands as it gives you the freedom and flexibility to stop and visit the attractions that interest you. Make sure you have all the necessary documents with you before renting a vehicle, such as your driver's license and passport.
Taxis are another great option for getting around the islands of Krabi, as they are convenient and cost-effective. Make sure you always negotiate the fare before getting in the taxi, as this will help you avoid any unexpected or inflated charges.
If you're looking for an economical option, then the public transport system is a great way to get around. Buses and ferries are available on all four of Krabi's main islands, so you can easily hop between them.
Exploring by foot or bike is also an enjoyable way to see the islands of Krabi. It's important to wear appropriate clothing and shoes when doing so, as you'll be exposed to the elements. Plus, if you plan on cycling, make sure that your bike has proper brakes and lights.
Touring Around Krabi
A 4 islands tour in Krabi is the perfect way to experience the best of this beautiful province. From its stunning beaches to its unique culture and cuisine, there is something for everyone here.
Start the day trip on Poda Island, a paradise island with crystal-clear waters and towering limestone cliffs. Here you can soak up the sun on its stunning beaches, explore the many caves and hidden lagoons, and engage in water sports such as kayaking and snorkelling.
Next, head to Koh Gai, an island with plenty of mid-range hotels and resorts along its rugged coastline. Spend your days in activities like boat tours, exploring the nearby islands, trekking through the jungle, and scuba diving in its coral-filled waters.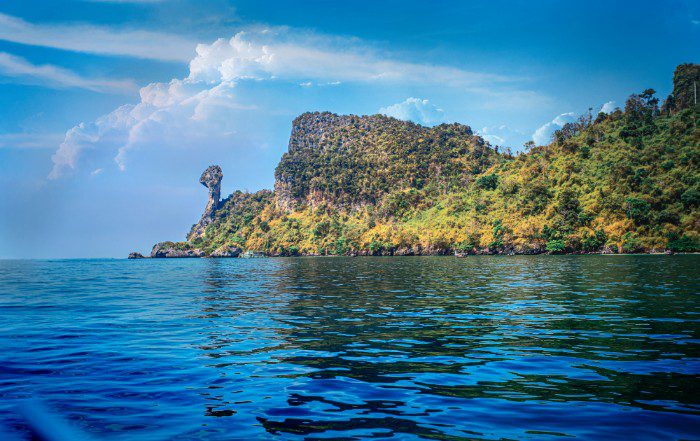 Then, you are on to Si Island, a tiny island home to some of the most pristine beaches in Thailand. Here you can enjoy beachcombing, swimming in its clear blue waters, and visiting the nearby fishing villages.
Finally, end your 4-islands tour in Krabi by heading to Ta Ming Island, where you can explore its unspoiled nature and laid-back atmosphere. Here you will find some of the most stunning sunsets in Thailand, as well as a variety of activities such as exploring waterfalls and hiking through the jungle.
Safety Tips When Traveling in Krabi
When travelling in Krabi, it is crucial to stay safe. Before embarking on your journey, it is essential to do some research and familiarize yourself with local laws and customs. Here are some tips to help you stay safe while exploring this beautiful province:
Protect your Valuables
Make sure to keep cash, credit cards, and other valuables in a safe place or have a money belt.
Be Alert
Be aware of your surroundings every time, and be vigilant when walking around late at night.
Stay Hydrated
Make sure you drink plenty of water, especially during the hot season.
Follow Safety Advice
Always follow safety advice from local authorities and tour guides.
Respect the Environment
Take only photos and respect local wildlife, culture, and customs when you're exploring the islands.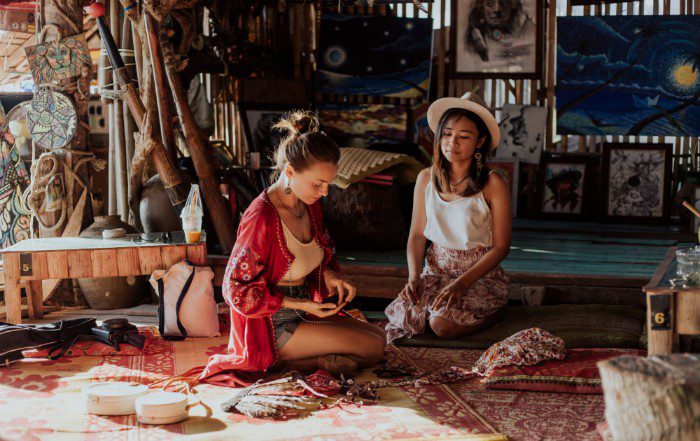 By following these simple tips, you can ensure a safe and enjoyable trip to Krabi.
How Much is the 4-Island Tour in Krabi?
Depending on the operator, prices can range from 1,500 to 2,500 Thai Baht per person.
Island tours typically include round-trip transport from your hotel in Krabi town, lunch and drinks throughout the day, and stops at locations like Tup Island, Chicken Island, Phra Nang Beach, and Poda Island.
Additionally, some operators may include travel insurance in the cost of their tour packages. It is essential to research different tour operators before deciding which one to book with for the best price and experience.
How to Book
Booking a 4-island tour in Krabi is easy. You can book a tour through an online travel agency or contact a local operator directly. Research beforehand to ensure you are getting the best deal for your money.
Final Thoughts
Krabi's 4-island tour is a great way to experience the beauty of this part of Thailand. Whether you're looking for a relaxing day out on the beach or an adrenaline-filled adventure, there is something for everyone in Krabi. Make sure you research carefully and book with a reputable operator so that you can enjoy your tour.