Are you dreaming of exploring the vibrant underwater world of Krabi and its beautiful scenery without emptying your wallet? Fret not, budget-conscious traveller! In this informative, fun, and witty guide, we'll share insider tips on how to experience the best Krabi snorkeling tour without breaking the bank.
Whether you're a seasoned snorkeler, a solo adventurer, a couple, or a family looking for affordable yet unforgettable snorkeling experiences, you've come to the right place. So, let's dive right in!
Best Time Snorkeling in Krabi
When planning your budget-friendly snorkeling tours to Krabi, timing is crucial. So, when is the best time to visit? From November to April, past the monsoon season, Krabi boasts clear skies, calm waters, and excellent visibility for snorkeling.
But if you want to save even more, consider visiting during the shoulder seasons, such as May and October. You might encounter a little rain, but you'll also enjoy fewer crowds and better deals on accommodations and tours.
Affordable Snorkeling Spots
Krabi has numerous beautiful islands sporting sandy beaches, but the best is the snorkeling spots, some of which you can enjoy without spending a fortune. Here are some budget-friendly options you should consider on choosing snorkeling tours:
Ao Nang Beach
Easily accessible from Krabi Town, beside the Andaman Sea, Ao Nang Beach offers a convenient spot for snorkeling enthusiasts who want to keep to shallow waters. While it may not be as pristine as other locations (this is one of the key stops for longtail boats taking visitors to railay and island tours) you can still spot various colorful fish. You'll find similar waters at Ao Nang's nearby Pai Plong Beach (just a scramble over the town's Monkey Trail).
Railay Beach
Famous for its limestone cliffs, Railay Beach is not just a rock climber's paradise. Hop on a longtail boat and explore its crystal clear waters around Phra Nang Beach. Railay has 3 beaches, but Phra Nang is best for swimming, as it is noted as National Park territory and longtail boats are not allowed to pull up in this area.
Tonsai Beach
Next to Railay Beach, Tonsai Beach is a laid-back, budget-friendly alternative for snorkelers. As with Ao Nang and Railay, waters are shallower and tainted y longtail boats. However, Tonsai has a much more 'off-the-beaten-path' vibe to it, longtail boats are less frequent, and you'll find a much quiter swim there.
DIY Snorkeling vs. Guided Krabi Snorkeling Tours
Now that you know some affordable snorkelling sites, it's time to decide whether to embark on a DIY snorkelling adventure or join a guided tour. Both options have their pros and cons:
DIY Snorkeling
Pros:
Cost-effective: save on tour fees by exploring on your own
Flexibility: snorkel at your own pace and spend as much time as you want at each spot
Cons:
Less guidance: you might miss some hidden gems without a knowledgeable guide
Safety concerns: no assistance in case of emergencies
Guided Krabi Snorkeling Tours
Pros:
Expert guidance: benefit from local knowledge and experience to find the best snorkelling spots.
Safety: tour operators provide life jackets, first-aid kits, and assistance in case of emergencies
Cons:
Cost: guided snorkeling tours, especially a private tour, can be more expensive than DIY snorkelling
To find affordable tour packages, research online, ask for recommendations from fellow travellers or negotiate with local tour operators. For equipment rentals or purchases, consider renting snorkeling gear from a local shop or buying second-hand items to save money.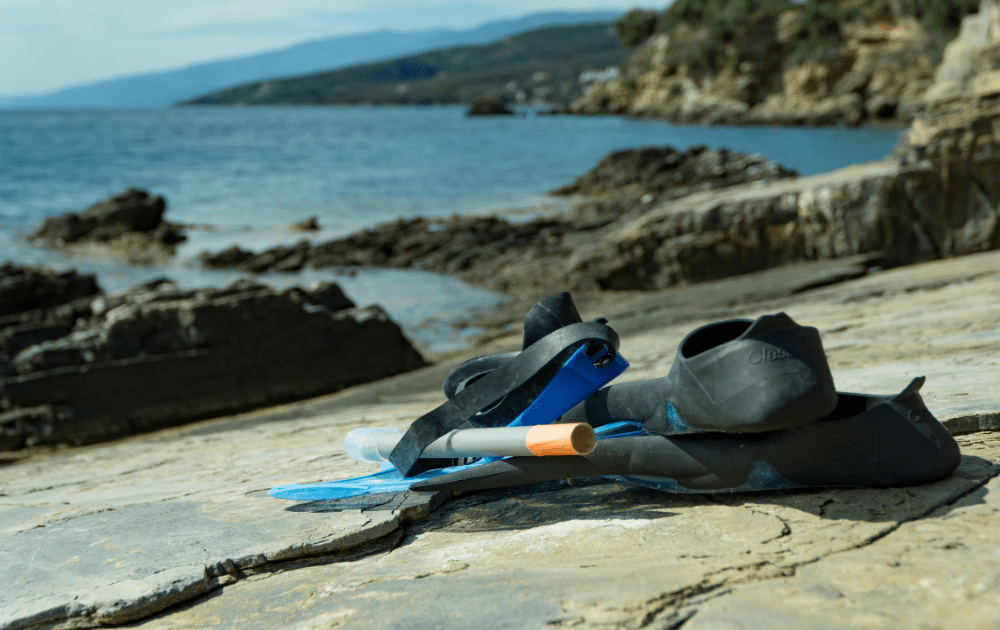 Transportation and Accommodation
When it comes to transportation and accommodation, there are several ways to keep your search for the best snorkeling tours adventure in Krabi budget-friendly:
Accommodation
Opt for guesthouses, hostels, or budget hotels near your snorkeling spots to save on lodging expenses. Read reviews, compare prices, and book in advance to secure the best deals. Staying in a shared dormitory or a private room in a hostel can significantly reduce your accommodation costs while still allowing you to meet fellow travelers and exchange tips and stories.
Transportation
Save on transportation using local buses or Songthaews (shared taxis) in mainland Thailand to reach your desired snorkeling locations. If you're feeling more adventurous, consider renting a scooter to explore Krabi's coastal areas at your own pace. Remember to wear a helmet and drive cautiously!
Combine A Snorkeling Tour with Other Attractions
Maximize your time and money by combining snorkeling trips with visits to nearby attractions, such as the Phra Nang Cave Beach, Chicken Island, or scuba diving at the best dive sites. Many tour operators offer combined packages that include multiple activities at a discounted rate.
Eating on a Budget
Snorkeling adventure in Krabi would only be complete with satisfying your taste buds with delicious local cuisine. Here's how to eat well without emptying your wallet:
Local Eateries and Food Stalls
Dine at local eateries and food stalls near your snorkeling spots for an affordable yet authentic taste of Krabi's culinary delights. Feel free to try new dishes and ask locals for recommendations.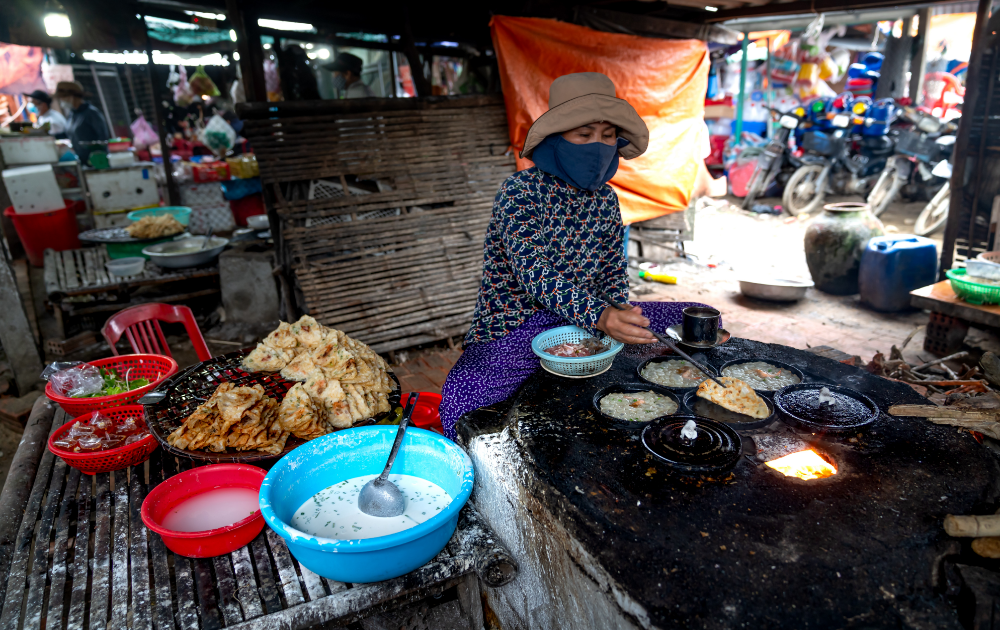 Bring Your Snacks
Save money by packing snacks or picnic lunches for snorkeling excursions. Not only will you save on dining expenses, but you'll also enjoy a personalized meal with a stunning ocean view.
Fun Dining Experiences
Why not treat yourself to a fun dining experience that won't break the bank? Share a seafood barbecue with fellow travelers at a beachside restaurant, or try a roti pancake from a street vendor for Krabi's delicious and affordable taste.
Responsible Snorkeling Practices
As you explore the stunning underwater world and enjoy Krabi snorkeling, practicing eco-friendly snorkeling is essential to protect delicate marine ecosystems. Here are some tips to ensure you're snorkeling responsibly:
Avoid touching or standing on coral; even the slightest contact can damage or kill these fragile organisms.
Keep a safe distance from marine animals and never feed them at snorkeling spots, as this can disrupt their natural feeding habits.
Be mindful of your trash and always pack it out with you to keep Krabi's beaches and oceans clean.
Making the Most of Your Snorkeling Adventure
To enhance your snorkeling experience without spending more, consider the following:
Capture your memories in snorkeling sites with underwater photography using a waterproof camera or smartphone case.
Learn to identify fish and coral species by borrowing a marine life guidebook from your accommodation or downloading a free app.
Connect with fellow snorkelers or join online communities to share your experiences, tips, and recommendations.
Packing Tips for a Budget-Friendly Snorkeling Trip
To further ensure your snorkeling adventure in Krabi remains budget-friendly, consider these practical packing tips that can help you save money and make your experience more enjoyable:
Bring Your Snorkeling Gear
Packing your snorkel, mask, and fins can save you money on rental fees and ensure you have comfortable equipment that fits well. If you're a frequent snorkeler, this investment will pay off in the long run. Alternatively, consider purchasing budget-friendly gear at your destination.
Pack Reef-Safe Sunscreen
Protecting your skin from the sun is essential, but it's also crucial to safeguard Krabi's coral reefs. Invest in reef-safe sunscreen free of oxybenzone and octinoxate, as these chemicals can harm marine life. This eco-conscious choice will protect both your skin and the environment.
Wear a Rash Guard or Wetsuit
Wearing a rash guard or wetsuit can provide extra sun protection, keep you warm in cold waters, and minimize the risk of cuts or scrapes while snorkeling. This extra layer can also help you save on sunscreen costs since you'll need to apply less.
Bring a Dry Bag
A dry bag is an excellent investment for keeping your valuables and electronics safe from water damage during snorkeling excursions. You'll have peace of mind knowing your belongings are protected, and you won't need to spend money replacing damaged items.
Prepare a Travel First-Aid Kit
Although snorkeling is generally safe, accidents can happen. Prepare a travel first-aid kit with band-aids, antiseptic wipes, and seasickness remedies. This way, you won't need to spend extra on overpriced medical supplies at your destination.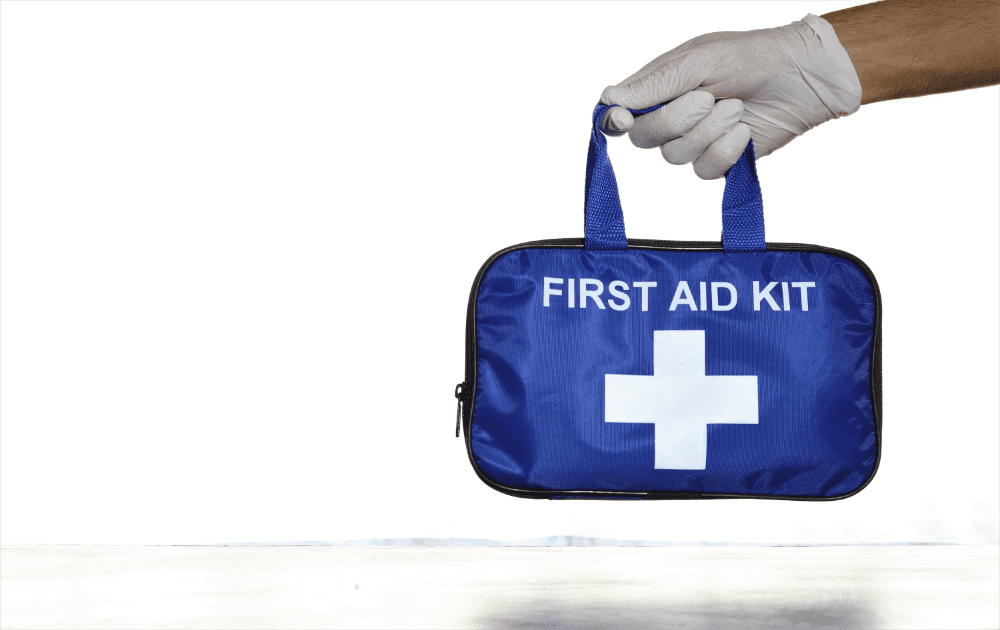 Bring a Reusable Water Bottle
Stay hydrated and eco-friendly by bringing a reusable water bottle on your trip. Fill it up at your accommodation or from refill stations to save on plastic waste and the cost of buying bottled water.
Budget-Friendly Activities to Combine with Snorkeling
Krabi offers many activities beyond snorkeling that you can enjoy without spending a fortune. Consider including these budget-friendly attractions in your itinerary to make the most of your Krabi adventure:
Explore Krabi's Night Markets
Krabi's night markets are a great way to immerse yourself in local culture, taste various street food, and shop for unique souvenirs. Visit the Krabi Town Walking Street or Ao Nang's Night Market for an unforgettable and affordable evening out.
Hike to a Viewpoint
Get your adrenaline pumping by hiking to one of Krabi's many stunning viewpoints. Popular options include the Khao Ngon Nak Nature Trail and the challenging climb to the Tiger Cave Temple. Enjoy breathtaking views and connect with nature without spending a dime.
Relax on Krabi's Beaches
Have a post-snorkeling relaxation, and take some time to relax on Krabi's beautiful beaches. Enjoy the sun, surf, and sand at popular spots like Phra Nang Beach and Nopharat Thara Beach. Bring a book and a beach towel, and unwind without extra expenses.
Visit Krabi's Temples
Krabi is home to several beautiful temples that glimpse Thai culture and history. Explore the impressive Wat Kaew Korawaram or admire the intricate details of Wat Tham Sua (Tiger Cave Temple). These spiritual sites are generally only require a small donation, making them budget-friendly attractions.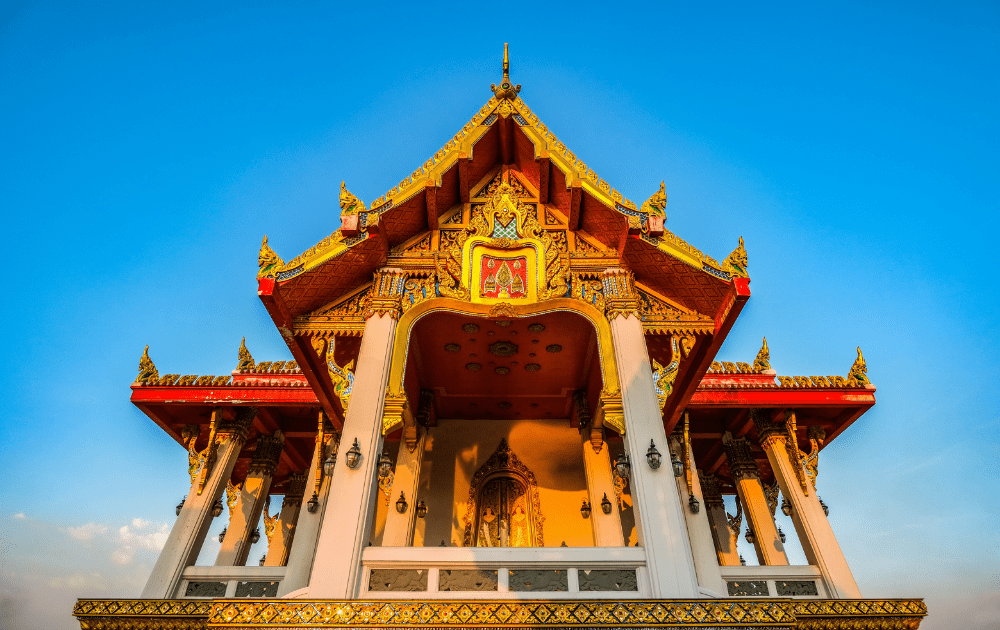 Discover Krabi's Hot Springs and Emerald Pool
For a relaxing and rejuvenating experience, head to Klong Thom Hot Springs or the Emerald Pool. These natural wonders provide a soothing soak in mineral-rich waters surrounded by lush forests. While there may be a small entrance fee, these unique attractions are worth the minimal cost.
Book a guided 5-Island Cruise with snorkeling included
Our sunset trips run 7 days a week all year round and commence at approximately 2 pm with meeting points in both Ao Nang and Railay. They allow for snorkeling at Poda, Chicken, Si and Ta Ming islands, with our friendly guides pointing out the best spots to see different species at each spot. We also provide handy fish-identification guides, so you can tick off your snorkel spottings as you go!
All snorkeling equipment and life jackets are included, and we provide child-sized masks and prescription masks for anyone that needs them – just let our experienced English-speaking guides know once you're aboard. Learn more or book our 5-Island Sunset Cruise