Welcome to the stunning tropical paradise of Krabi, Thailand. Famed for its crystal-clear waters, limestone cliffs, and lush jungles, Krabi is a traveler's dream. However, with its tropical climate comes a weather pattern that can be pretty unpredictable.
Understanding Krabi, Thailand, and its unusual climate is crucial to a memorable trip. It's not just about packing the right clothes; it's about planning your activities, knowing when to explore and relax, and being flexible with your itinerary to better deal with Krabi weather.
This is where our guide comes in. We'll provide valuable tips and insights to help you adapt your itinerary to the Krabi weather conditions. We've got you covered, whether it's the sunny, dry season or the more unpredictable rainy season.
So, buckle up! We're about to take you on a journey through the seasons of Krabi, arming you with the knowledge to make the most of your visit, regardless of the weather. Dive in, and let's start planning your dream tropical vacation.
Understanding Krabi Weather
Krabi boasts a tropical monsoon climate, which means it's generally warm year-round, with average temperatures ranging from 24°C to 32°C and lots of sunny intervals. However, Krabi is not always sunshine and clear skies, and it's essential to understand the ebb and flow of its seasons.
The Dry Season
From November to April, Krabi experiences its dry season. During these months, you can expect plenty of sunshine, sunny intervals, and blue skies, making it an excellent time for beach activities.
The average temperature hovers around 28°C to 32°C. That is also the peak tourism season in Krabi, so expect bustling beaches and lively night markets.
The Rainy Season
May to October marks the rainy season. Rainfall is typically heavy but brief, usually occurring in the afternoon or at night, and sunny intervals are never rare. Despite the rain, temperatures remain warm, typically between 24°C and 29°C. Don't be put off by the idea of rain; this season offers its charm.
You'll find fewer tourists and lush green landscapes, and the waterfalls are at their most majestic during these months.
Typical Weather Patterns
Understanding the typical patterns can enhance your trip planning. Mornings are usually bright and sunny intervals are often in the dry season, though it is partly cloudy a few times but still perfect for outdoor adventures. Evenings can be slightly colder, ideal for exploring local markets or enjoying a beachfront dinner.
During the rainy season, mornings start clear, with showers and mostly partly cloudy skies, usually in the afternoon or evening. Planning indoor activities or relaxing in your accommodation during these times is wise.
Remember, weather can be unpredictable anywhere, and Krabi is no exception. A basic understanding of Krabi's will allow you to plan effectively, but flexibility is vital. Being prepared to adapt to the ever-changing weather patterns is the secret to making the most of your Krabi experience.
Krabi Activities Suited to Different Weather Conditions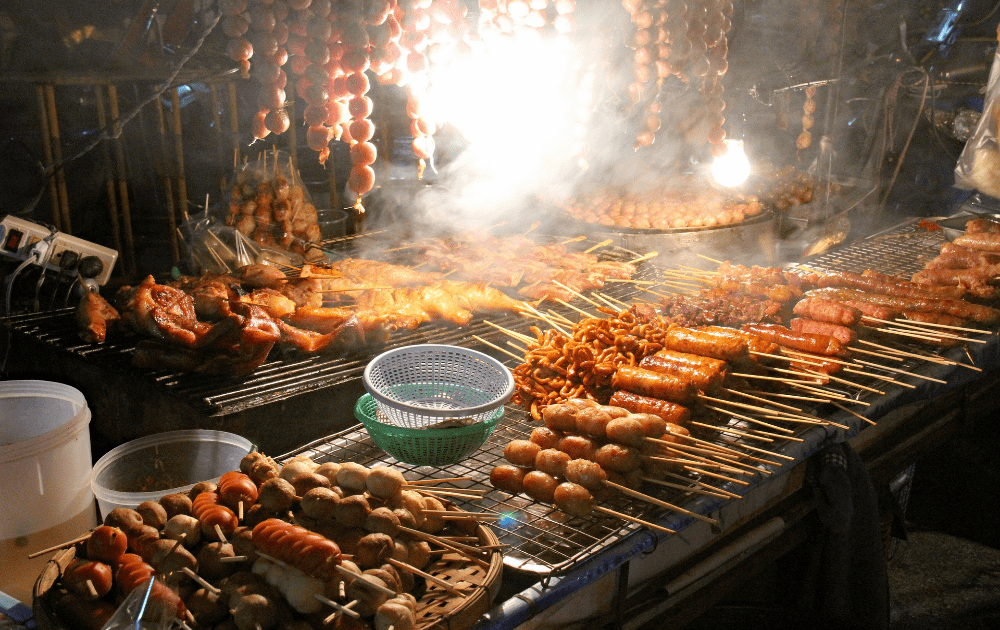 Krabi's diverse landscape and rich culture offer an array of activities suitable for different weather conditions. Your trip can be just as enjoyable whether you visit during the dry or rainy season.
Activities Best Suited for the Dry Season
The dry season, with abundant sunshine, sunny intervals, and clear skies, is ideal for outdoor adventures.
Beach Activities
Krabi is a beach lover's paradise. Take advantage of the sunny weather to enjoy sunbathing, swimming, or snorkelling. Krabi's underwater world, teeming with vibrant marine life, is a must-see.
Island Hopping
It is the perfect time to embark on an island-hopping tour. The Four Island, Five Island, and Phi Phi Island tours are among the most popular, and you'll experience stunning vistas, crystal clear waters, and white sandy beaches. Experience a true Krabi island adventure in one of the most exciting ways by climbing aboard krabi's very own pirate ship junk boat for a 5-Island Sunset Cocktail Cruise.
Outdoor Adventures
For adrenaline junkies, Krabi's limestone cliffs provide excellent rock climbing opportunities. The region's jungles also offer exciting trekking routes, allowing you to experience Krabi's diverse flora and fauna up close.
Activities Best Suited for the Rainy Season
The rainy season doesn't mean the fun has to stop. There are plenty of activities to enjoy, even when the heavens open.
Indoor and Cultural Activities
Rainy days offer the perfect opportunity to explore Krabi's cultural offerings. There are multiple temples in the area to visit, some resting high above the clouds in Krabi's mountains and hills and others simply resting on the well-travelled roadsides. The most popular is Wat Tham Sua, also known as the Tiger Cave Temple. Ascend the 1,237 steps to the mountaintop and be rewarded with mind-blowing views and a sense of tranquility. Marvel at the intricate architecture of the white temple, Wat Kaew Korawaram, an ornate place of worship right in the heart of Krabi Town. Or, explore the roadside Wat Sai Thai, known for its reclining golden Buddha statue and peaceful atmosphere.
Spa and Wellness
Why not indulge in a traditional Thai massage? Or treat yourself to a day at a wellness retreat. The sound of rain outside only adds to the tranquility of these experiences.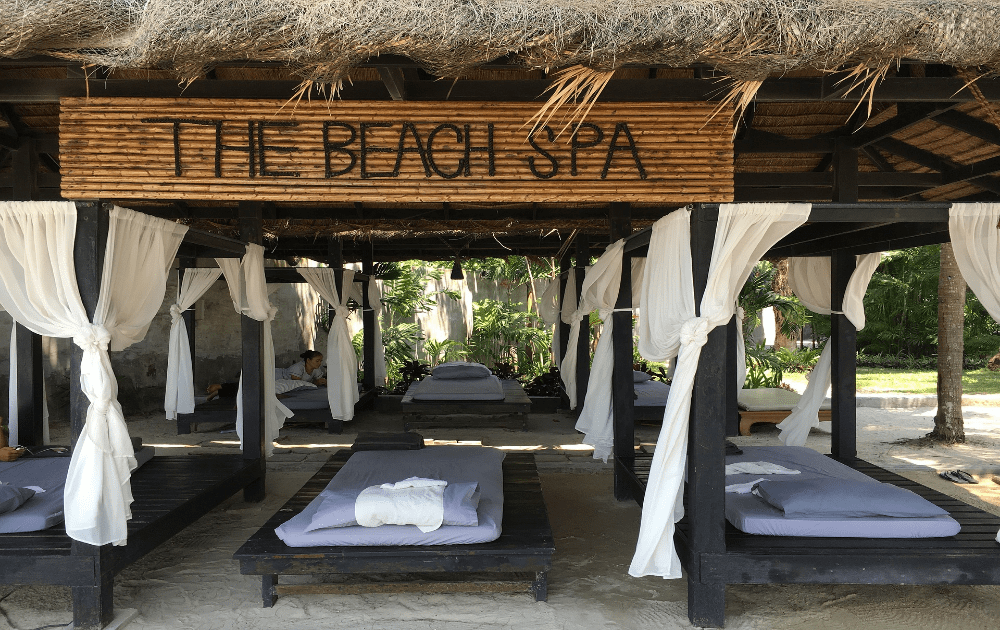 Exploring Local Markets and Culinary Experiences
Krabi's local markets are vibrant, colorful, and full of delicious Thai food. Sampling local delicacies is a must-do activity, regardless of the weather.
Activities You Can Enjoy Regardless of the Season
Krabi has plenty to offer year-round. Rain or shine, these activities are always an option.
Exploring Krabi's Nightlife
From lively beach bars to laid-back lounges, Krabi's nightlife caters to all tastes. Enjoy a cocktail, meet fellow travelers, and dance the night away.
Enjoying Local Thai Cuisine
The culinary scene in Krabi is a fusion of flavors. Trying Thai cuisine is a must, whether it's a local eatery or a high-end restaurant.
Boat Cruises and Fishing
Fancy a sunset cruise? Or would you like to try your hand at fishing? These activities run all year round, offering unique perspectives of Krabi's stunning coastline.
Krabi's weather may be unpredictable, but one thing's for sure: there's never a dull moment. With a wealth of activities to choose from, you can make the most of your Krabi trip, come rain or shine. Remember, adaptability is vital. Embrace the weather, and let it shape your unique Krabi experience.
How to Adapt Your Itinerary
Krabi's tropical weather can be unpredictable, so adjusting your itinerary to suit the conditions is critical to a stress-free vacation.
Flexibility
Having a flexible itinerary is crucial. Some days are perfect for a boat trip or a beach day, depending on the day forecast and wind direction, while others call for indoor activities.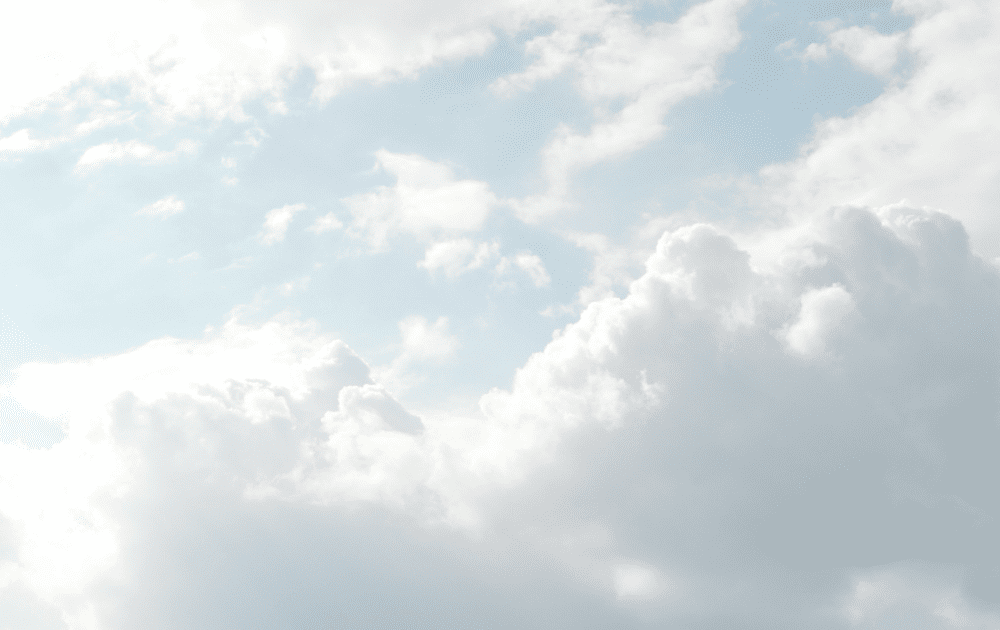 Be ready to shuffle your plans around depending on the weather. Remember, part of the adventure is embracing the unexpected.
Backup Plans
Always have a plan B. If you've planned a day at the beach and it rains, consider visiting a local museum or indulging in a spa day. Similarly, if you've scheduled an indoor day and the sun decides to shine, be ready to swap it for an outdoor adventure.
Using Weather Data
Stay informed about the local weather by looking at the Krabi weather forecast. Local news channels and online resources provide accurate and timely weather updates on winds (wind direction and wind speed), precipitation, and humidity to sunrise and sunset.
Regularly checking these forecasts can help you plan your activities more effectively and avoid weather-related surprises.
Safety Considerations
Prioritize safety. If it's partly cloudy, there's a storm forecast, or the sea looks choppy, postponing boat trips or other water activities is best. Likewise, avoid jungle treks if it is partly cloudy and there is a forecast of heavy rainfall, as paths can become slippery and difficult to navigate.
While it's essential to make the most of your holiday, it's equally important to respect the forces of nature. With a flexible approach, a backup plan, a watchful eye on the weather, and a focus on safety, you can adapt your itinerary to any weather conditions Krabi might throw your way.
Your holiday in Krabi isn't about the weather; it's about the incredible experiences you can have, regardless of the sun or rain.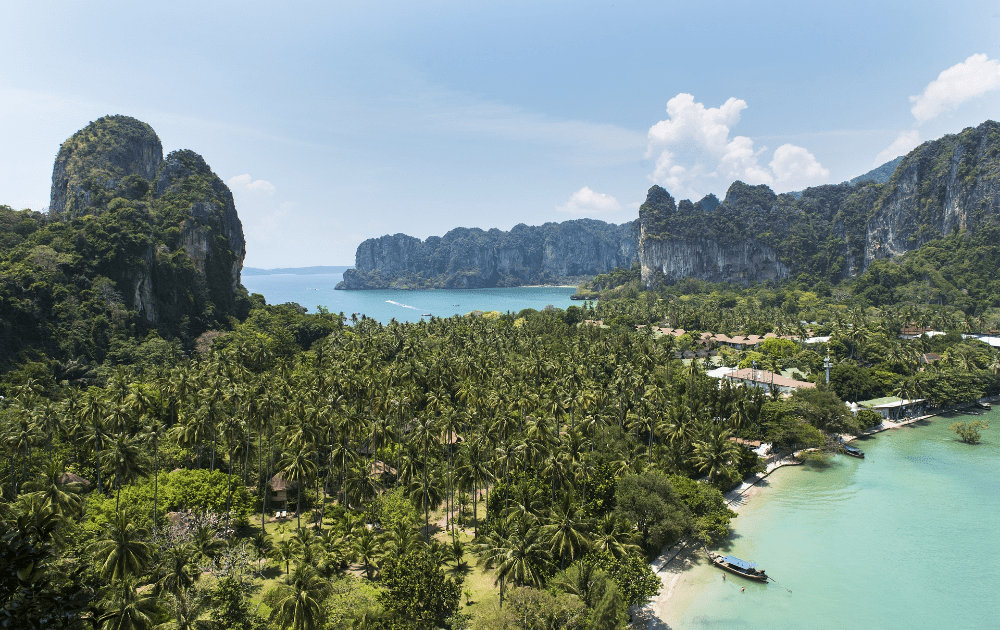 Packing Tips for Krabi
Packing for Krabi's tropical climate can be a breeze if you know what to expect. Here's what to bring for different seasons.
For the Dry Season
Pack lightweight, breathable clothing, perfect for warm sunny days. Remember your swimsuit, sun hat, sunglasses, and good SPF sunscreen to protect your skin. If you plan to visit temples, pack a shawl or sarong to cover your shoulders and knees.
For the Rainy Season
An umbrella or lightweight raincoat is a must, especially if it is partly cloudy. Quick-drying clothes and waterproof bags for electronics are also advisable. Footwear should be sturdy and water-resistant – leave your flip-flops for sunnier days.
General Packing Tips
Regardless of the season, a good insect repellent is a must in a tropical climate. Also, consider packing a reusable water bottle to stay hydrated. And remember, even when it is partly cloudy or during the rainy season, the sun can break through the clouds, so always pack sun protection.
Packing can significantly enhance your Krabi experience. By preparing for the season and weather, you'll be ready to make the most of what Krabi offers, rain or shine.
Final Weather Thoughts
Making the most of Krabi is all about adaptability. Understand the seasons, take advantage of the ideal temperature, avoid extreme humidity, plan your activities according to the Krabi weather forecast, and remain flexible. Embrace the unpredictability of the weather as part of your adventure.
Remember, even a rainy day in Krabi can offer its unique charm. Pack wisely, keep safety at the forefront, and most importantly, enjoy every moment. Krabi is a paradise that offers many experiences, come rain or shine.
So, immerse yourself in its beauty, and let the weather shape your unforgettable journey. Here's to a trip filled with remarkable experiences, whatever the weather!
Looking for Krabi activity inspiration. Our Island Cruise Gallery has lots of great photos of Krabi's boat tour sunsets, paddleboard experiences, and underwater wildlife captures.